Zhang-Zhang rank second in short program
(AP/www.chinadaily.com.cn)
Updated: 2006-02-12 10:32
Zhang Dan and Zhang Hao, whose routine to Led Zeppelin's " Kashmir" rocked the nearly full arena Saturday night in Turin Winter Olympics.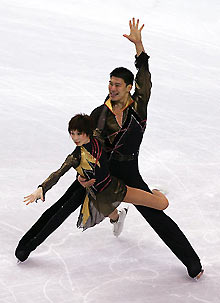 Zhang Dan and Zhang Hao from China perform during the figure skating Pairs Short Program at the Torino 2006 Winter Olympic Games in Turin, Italy, February 11, 2006. [Reuters]

The Chinese pairs followed two-time world champions Tatiana Totmianina and Maxim Marinin to rank the second, while China's Pang Qing and Tong Jian, and Shen Xue and Zhao Hongbo were fourth and fifth.

Zhang-Zhang began with an intricate one-armed lift that led to a big throw triple loop, energizing the crowd ¡ª particularly the Chinese fans who shook colorful rattles shaped like hands and held up banners supporting their skaters.

The Zhangs, who are not related, closed with a huge double twist that could have been a quad if it was permitted, and a complex combination spin. The 2005 world bronze medalists slapped hands at the end, then saw a personal-best 64.72 points go up on the board.

That put them ahead until almost the end, when "Tot and Max" took the ice.

"We both have one aim," Zhang Dan said. "We wanted to perform our best in the Olympic Games."

Their countrymen, two-time world champions and Salt Lake City bronze medalists Shen and Hongbo, were happy simply to skate at all.

Zhao has made an amazingly quick comeback from a torn Achilles' tendon in August. He only began triple jumps last week, but he hit his triple toe loop while Shen was touching her hand to the ice Saturday night.

"The power is not sufficient, but the performance I am happy for," he said.

Totmianina and Marinin easily were the class of the event. They earned 68.64 points, with the highest totals for both technique and components.

They were so good the crowd was hushed for much of the performance, the near silence broken only by the sound of their blades majestically cutting through the ice.