Iran leader threatens new nuclear policy
(AP)
Updated: 2006-02-12 09:05
Iran's hard-line president threatened to revise his policy of working within international atomic frameworks, as diplomats in Europe said the UN nuclear watchdog agency had stripped most of its surveillance equipment from Iranian nuclear sites.
The diplomats, who demanded anonymity in exchange for revealing the confidential developments, said the move was part of retaliatory measures announced by Iran that have left the International Atomic Energy Agency with only the most basic means to monitor Iran's nuclear activities.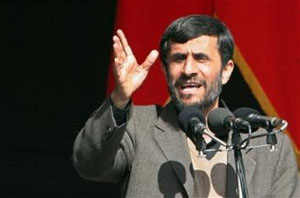 Iranian President, Mahmoud Ahmadinejad, delivers his speech in front of tens of thousands of Iranians during a ceremony marking the 27th anniversary of Iran's Islamic Revolution at the Azadi (Freedom) Sq. in Tehran, Iran, Saturday, Feb. 11, 2006. The Iranian president on Saturday rejected Western pressure to freeze the country's nuclear program and issued a veiled threat to walk away from the Nuclear Nonproliferation Treaty. [AP]

In Iran, thousands rallied across the nation Saturday to celebrate the anniversary of the Islamic Revolution and show support for Iran's nuclear rights.

State-run television called the nationwide demonstrations "a nuclear referendum" and showed footage of rallies in Iran's major cities. In Tehran's Azadi Square, some young men wore white shrouds symbolizing their readiness to die for the country's nuclear ambitions.

In a speech before tens of thousands massed in Azadi Square to mark the 27th anniversary of the revolution that brought a Muslim theocracy to power, President Mahmoud Ahmadinejad focused on the building crisis surrounding Iran's disputed nuclear program.

"The nuclear policy of the Islamic Republic so far has been peaceful. Until now, we have worked inside the agency (IAEA) and the NPT (Nuclear Nonproliferation Treaty) regulations," he said.

"If we see you want to violate the right of the Iranian people by using those regulations (against us), you should know that the Iranian people will revise its policies."

The crowd in the square chanted: "We would fight, we would die but we will not accept lowliness!" — referring to Iran's refusal to give in to outside pressure.

Ahmadinejad's comments were believed to be a threat to withdraw from the IAEA and NPT.

The Iranian leader appeared in part to be responding to Thursday's call by U.N. Secretary-General Kofi Annan for Iran to restore a freeze on its nuclear activities and pursue talks to shift its uranium enrichment program to Russia.

Britain, Germany and France have led months of futile talks on behalf of the 25-nation European Union amid U.S.-backed suspicions that Iran's civilian nuclear program is aimed at producing nuclear weapons — not electricity as Tehran insists.

Ahmadinejad — who has declared the Nazi slaughter of 6 million Jews during World War II a "myth" and that Israel should be "wiped off the map" — said the true Holocaust was happening now in the Palestinian territories and Iraq.

Ahmadinejad has not relented in attacking Israel and recently a Tehran newspaper announced it was holding a contest for caricatures of the Holocaust. That contest is in response to the publication of caricatures of the Prophet Muhammad by European newspapers, which has triggered a series of deadly global demonstrations by angry Muslims and attacks on Western embassies.

Ahmadinejad has said "Zionists" were behind the publication of caricatures. Islam widely holds that representations of the prophet are banned for fear they could lead to idolatry.

Tensions between Iran and the international community escalated last month after Iran removed U.N. seals and began nuclear research, including small-scale uranium enrichment.

On Feb. 11, the IAEA's board voted to send Iran's nuclear file to the Security Council, saying it lacked confidence in Tehran's nuclear intentions and accusing Iran of violating the nuclear arms control treaty.

Iran responded by ending voluntary cooperation with the IAEA and announcing it would start uranium enrichment and bar surprise inspections of its facilities.

With most surveillance equipment and seals from Iran's nascent uranium enrichment facilities at Natanz now removed — and Iran recently ending the agency's rights to inspections on short notice — the IAEA has few means to monitor the progress of Tehran's enrichment efforts. It also is crippled in its attempts to look for secret sites and experiments that could be linked to nuclear arms.

The agency still has some seals and equipment at Natanz and Isfahan, where Iran is converting raw uranium into the feedstock gas for enrichment under basic agreements linked to the Nuclear Nonproliferation Treaty. That monitoring is considered inadequate in the agency's ongoing efforts to establish whether the country has tried to develop a nuclear weapons program at undeclared facilities.

Despite the recent developments, the Islamic republic has left the door open for further negotiations over its nuclear program, saying it was willing to discuss Moscow's proposal to shift large-scale enrichment operations to Russian territory in an effort to allay suspicions.

High-level talks on the proposal are scheduled to begin in Moscow on Thursday, but Russia says it still awaits word from Tehran. The proposal is backed by the United States and the European Union as a way to provide additional oversight of Iran's use of atomic fuel.