Putin invites Hamas leaders to Moscow
(AP)
Updated: 2006-02-10 08:50
Russian President Vladimir Putin on Thursday invited leaders of Hamas to Moscow, saying his country — unlike most of the West — does not see the Palestianian group as a terrorist organization.
Hamas leader Ismail Haniyeh said in Gaza group members would be "delighted" to visit Russia if officially invited. Israel reacted coolly.
Hamas' surprise Jan. 25 election victory sent shock waves around the world. The group's founding manifesto calls for the destruction of Israel, and it has refused to move away from that position since the election.
Alexander Kalugin, Russia's special envoy for the Middle East, said in Moscow that Russia would use the meeting to ask the militant group to recognize Israel's right to exist.
Putin, ending a two-day visit to Spain. urged the world not to turn its back on Hamas.
"Hamas came to power ... as a result of democratic, legitimate elections and we must respect the choice of the Palestinian people," he told a press conference. "We have to look for solutions for the Palestinian people, for the international community, and also for Israel."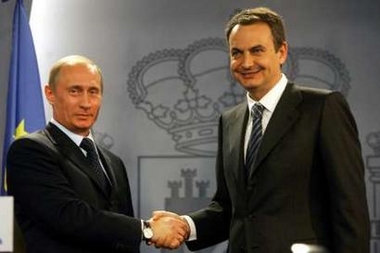 Russia's President Vladimir Putin (L) and Spanish Prime Minister Jose Luis Rodriguez Zapatero shake hands after their joint news conference at Moncloa Palace in Madrid February 9, 2006.[Reuters]

Israeli Foreign Ministry spokesman Mark Regev said a dialogue with Hamas can be established only if it abandons terrorism and recognizes Israel.

Although Hamas has claimed responsibility for violent attacks including suicide bombings in Israel, Putin refused to label it a terrorist organization.

"We have never considered Hamas a terrorist organization," he said.

"Having maintained our contacts with the organization Hamas we intend to invite their leaders to Moscow in the near future to search for solutions," he said. He did not say when talks might be held.

Alexander Kalugin, Russia's Middle East envoy, said any meeting in Moscow would be in line with agreements of the so-called Quartet trying to negotiate a Middle East peace — the United States, Russia, the European Union and the United Nations.

Russian Foreign Ministry spokesman Mikhail Kamynin made the overtures to Hamas to prevent "a serious deterioration" of the Palestinian-Israeli conflict and to keep the path open for mediation.

Moscow intended to deliver a strong and clear message to the Hamas leadership from the international community of the need to take "responsible decisions that are in the interests of the entire Palestinian people," he said in a statement from Moscow.

Spanish Prime Minister Jose Luis Rodriguez Zapatero, speaking at the news conference with Putin, said Madrid would support Russia's peace initiatives.

Zapatero also said Russia must play a decisive role in finding an answer to the international community's standoff with Iran over Tehran's nuclear ambitions.

"The role of the Russian federation, of President Putin, is going to be decisive to all that affects the dialogue and the peace prospects in the Middle East following the Palestinian elections, as well as the current situation in Iran," Zapatero said.

Both leaders also appealed for an end to the violence that has swept the Muslim world over European newspapers' decision to publish caricatures depicting the Prophet Muhammad.