Turin ready to unveil Olympics
(China Daily)
Updated: 2006-02-09 05:43
TURIN: Two days to go and the last minute rush ahead of the 20th Winter Olympics has gone into overdrive in Turin.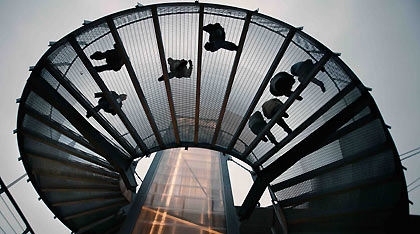 Athlets returning to their village in the Olympic Park descend a circular staircase in Turin, Italy February 8, 2006. The Torino 2006 Winter Olympic Games get underway February 10. [Reuters]


Friday's opening ceremony is expected to be followed by 35,000 spectators inside Stadio Olimpico stadium and approximately 2 billion television viewers worldwide.

International Olympic Committee (IOC) president Jacques Rogge is confident that the transportation problems are just last-minute glitches in the race for the first winter Olympics in Italy since Cortina DAmpezzo in 1956.

While Turin itself and the surrounding mountain venues are ready for the action which gets underway for real on Saturday, the day after the opening ceremony, the biggest problem remains traffic headaches.

Getting the Italian drivers to respect the lanes reserved for Olympic vehicles is proving a problem as is the 2,000 bus drivers who have been drafted in from all around Italy and are also unfamiliar with the local roads.

"Like with all games, the final stretch is always the most difficult one," said Rogge.

"Here and there, a couple of issues need to be solved. But there are still a few days until the opening ceremony. I'm very confident these will be very good games."

"What is important is that the fundamentals are very good," he said. "There is no structural issue. There is nothing that cannot be solved in a matter of days. I'm confident everything will be done by the opening ceremony."

The problem over doping controls has been resolved with Rogge hailing the agreement reached with the Italian government which allows controls to be carried out by the World Anti-Doping Agency (WADA).