China reports another bird flu outbreak
(Reuters)
Updated: 2006-02-08 16:03
China reported a fresh outbreak of bird flu on a chicken farm in the northern province of Shanxi on Wednesday, but the Agriculture Ministry said it had been brought under control.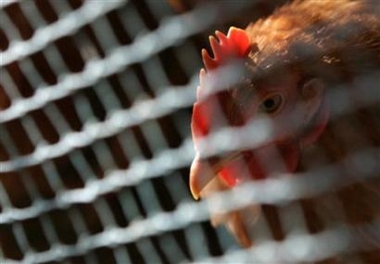 A chicken is kept in a cage at a poultry market in Shanghai February 8, 2006. [Reuters]
By Friday, 15,000 chickens in Yijing township, part of the coal-mining city of Yangquan, had died, the ministry said in a report on its Web site. They were confirmed to have the H5N1 strain of avian flu on Tuesday.
Teams from the Agriculture Ministry had been sent to Yijing, where more than 187,000 chickens were culled, and the outbreak was brought under control, it said.
Scientists fear H5N1, which has killed at least 88 people in seven countries, since it re-emerged in late 2003, could mutate into a form that passes easily from person to person, sparking a pandemic.
There was no information yet on whether there were any suspected human cases from the Shanxi outbreak, said the World Health Organisation's Julie Hall, who oversees the WHO's fight against bird flu in China.
She said the WHO was in touch with China's Ministry of Health on tracing any people who might have fallen ill after contact with sick chickens in the area.
With more poultry than anywhere else in the world, China is seen as a key battleground in fighting the disease.
It had more than 30 poultry outbreaks last year and has had at least 10 human cases, and Chinese officials have admitted that its vast size and lack of trained personnel at the local level meant there could be more cases going undetected.
Seven of its 10 human cases have died, but a six-year-old boy who fell ill with bird flu in the central province of Hunan was gaining weight and would soon be released from hospital, the Beijing Youth Daily reported on Wednesday.
China's Hong Kong, which is also struggling to prevent the spread of the disease, put a 20-month-old boy into isolation on Tuesday and ordered influenza tests after he was admitted with a fever and a cough.
Preliminary tests on the baby were negative for H5N1, a health department spokesman said.
Hong Kong announced a new suspected case of bird flu on Tuesday, after preliminary tests on a dead chicken turned up positive. It urged anyone who felt sick after coming into contact with chickens in the area to seek immediate medical advice.
On Tuesday, Hong Kong also passed emergency legislation banning backyard poultry farming to try to tighten controls and curb the spread of the disease.