Bank of China targets Hong Kong IPO in May
(AFP)
Updated: 2006-02-08 13:53
Bank of China, the country's third largest bank, plans to list in Hong Kong in May and later wants to raise more cash by selling shares on domestic markets.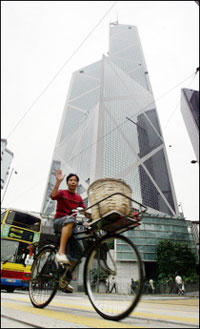 Bank of China headquarters in Hong Kong, where the country's third largest bank plans to list in May and later wants to raise more cash by selling shares on domestic markets. [AFP]

The lender, one of China's four major state-owned banks, has filed its dual-listing plan with the State Council or cabinet and expects the initial public offering of Hong Kong in May, the China Securities Journal reported.

After the issue of H-shares in Hong Kong, Bank of China will then issue A-shares on the Shanghai Stock Exchange as soon as possible, the report said, citing an unnamed source familiar with the matter.

The Hong Kong-based South China Morning Post reported Wednesday that the authorities may decide what portion of Bank of China's existing shares will be listed as H-shares this week.

The State Council last month gave in-principle approval to Bank of China's plan to sell up to 15 percent of its enlarged share capital in the Hong Kong IPO.

Bank of China has finished pre-listing preparation and can float shares within 15 months of government approval, although much rides on market conditions, especially with its domestic portion of the listing, the newspaper said.

The flotation would follow the successful Hong Kong listings of Bank of Communications and China Construction Bank last year, the first privatisations in China's huge and heavily protected banking sector.

China believes privatisation will bring the country's massive and often ill-governed financial institutions into order before the industry is opened up to international competition at the end of the year.

However, only recently two former managers for the state-controlled Bank of China were charged in the United States with stealing more than 485 million dollars and laundering money through Las Vegas casinos.

China's banking regulator admitted Monday that corruption continues to plague the sector with some 95 billion dollars in the nation's banking system identified in 2005 as irregular, 31 percent higher than the previous year.

Scrambling to reassure investors, the Bank of China said this week it would cooperate with US authorities and was cracking down internally to safeguard bank assets.

The Beijing-based group has Royal Bank of Scotland, Switzerland's UBS and the Asian Development Bank as strategic investors, which, according to regulators, have invested 3.675 billion dollars.

The Singapore government's investment arm, Temasek, could also buy five percent of Bank of China for 1.5 billion dollars, Chinese press reports have said.