Philippine govt, Muslim rebels reach deal on ancestral lands
(AFP)
Updated: 2006-02-08 09:15
The Philippine government and Muslim separatist rebel negotiators said they had reached a preliminary deal on the controversial issue of ancestral lands.
Two days of preliminary peace talks in Malaysia ended with both parties "successfully wrapping up the consensus points of the ancestral domain issue," negotiators from the Manila government and the Moro Islamic Liberation Front said in a joint statement from the southern resort of Port Dickson.
"The ancestral domain agreement may be signed by late March 2006, simultaneously with the inception of the formal talks," they said.
The parties had agreed jointly to determine the scope of the Moro homeland based on technical maps and data submitted by both parties, it said.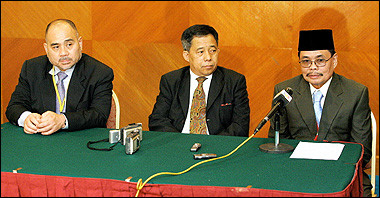 Government of the Republic of Philippines panel chair Silvestre Afable Jr. (L), adviser to the Malaysian Prime Minister Othman Abdul Razak (C), and Moro Islamic Liberation Front (MILF) panel chair Mohagher Iqbal (R) speak during the announcement of negotiation results between the Philippine government and Muslim separatist negotiators in Port Dickson, about 100 kilometers from Kuala Lumpur. [AFP]

The two also settled on measures to address "the legitimate grievances" of the Moro people "arising from the unjust disposession and/or marginalization" and "their right to use and develop their ancestral domain and ancestral lands."

The two also reached agreement on economic cooperation, said the statement.

Silvestre Afable, who led the Philippine government delegation, was quoted as saying by the official Bernama news agency that the Manila government was committed to achieving peace and "very happy that MILF had responded with seriousness and commitment."

He predicted that they would reach their goal sooner than expected.

MILF delegation leader Mohagher Iqbal said their hope of achieving a comprehensive and durable peace in Mindanao was "getting nearer and nearer".

He said among the issues to be discussed was a political solution between the two parties.

Malaysia has been mediating in peace talks between Manila and the 12,000-strong MILF, which has been fighting for over two decades to set up an Islamic state in the southern third of the Philippines.

The MILF has been demanding that it be granted rights over its "ancestral domain" or homeland which traditionally means the entire southern island of Mindanao, where they have been fighting to establish an independent Islamic state.

Manila and the MILF signed a ceasefire in 2001 and opened peace talks but one of the stumbling blocks was the rebels' demand for recognition of their ancestral domain.