11 polluting plants told to clean up their act
(China Daily/Agencies)
Updated: 2006-02-08 06:10
China's top environmental watchdog has demanded officials report toxic spills within an hour and has named and shamed 11 companies for pollution.
An official from the State Environmental Protection Administration (SEPA), quoted by the People's Daily, said officials and executives who delayed reporting or covered up "sudden environmental incidents" may face criminal prosecution.
Pan Yue, vice minister of the State Environmental Protection Administration (SEPA), on Tuesday warned 11 highly-polluting factories to clean up their act or face fines or closure. The enterprises found to have "serious problems" include Baiyin Nonferrous Metals Co in Gansu Province and Xingtai Iron and Steel Co Ltd in Hebei Province.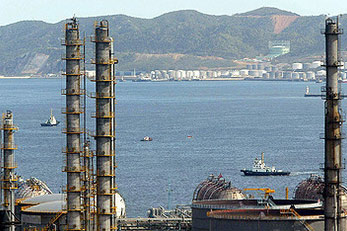 The Dalian Petrochemical Plant in northeast China. [AFP]
Baiyin is China's seventh-largest copper producer with an annual production of about 100,000 tons and Xingtai has an annual steel production of 2.4 million tons.
The 11 were identified in a nationwide survey of 78 factories, which began after a November chemical spill in Northeast China's Songhua River.
"Recent pollution accidents were caused not only by factories, but also the country's imbalance in industrial structure," said Pan. "In the long run, industrial structure and localized environmental crises will replace individual polluters as the No 1 environmental threat in the country," Pan said.
SEPA will conduct a second round of checks on 127 chemical or petrochemical projects for environmental threats.
Located in river basins, coastal regions, densely-populated areas or nature reserves, the 127 projects have a combined investment of about 450 billion yuan (US$55 billion).
"SEPA has sent out teams throughout the country for inspections," said Zhang Jianyu, a visiting scholar at the School of Public Policy and Management, Tsinghua University.
"The new round of checks is a more active response and a systematic approach," Zhang said. "But we cannot expect just one examination to solve all the potential threats."
SEPA yesterday also named 10 metal, transportation and power projects under construction or in trial operation near rivers, areas of dense population or nature reserves as posing serious environmental danger.