China rejects Pentagon's 'threat' report
(China Daily/Xinhua/CRI)
Updated: 2006-02-08 06:10
China yesterday rejected a Pentagon report that plays up the "China military threat," saying it poses no threat to the world.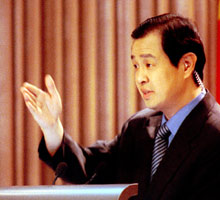 Foreign Ministry spokesman Kong Quan invites questions at a press conference in Beijing. [newsphoto/file]

"We express firm opposition to the US defence review and have lodged a serious objection with the US," Foreign Ministry spokesman Kong Quan said at a regular news briefing.

The US Quadrennial Defence Review released last week by the Department of Defence said China had the greatest potential to compete militarily with the United States.

"The report interferes with China's internal affairs by groundlessly blaming the nation's normal national defence build-up," Kong said. "It also whips up fears of a 'Chinese military threat' and misleads public opinion."

China is taking a straight path towards peaceful development and is adopting a national defence policy of a defensive nature.

"China has never threatened any country in the past, and will never do so in the future," he said. Kong urged the US to correct its viewpoints and actions and view China's peaceful development with an objective and positive attitude.

China's military budget for 2005 was $30.7 billion, based on current exchange rates, after a decade of double-digit annual increases.

"Of the major and emerging powers, China has the greatest potential to compete militarily with the United States and field disruptive military technologies that could over time offset traditional U.S. military advantages absent U.S. counter strategies," the latest Pentagon report said.

By comparison, President Bush in his budget proposal this week said America's military budget in 2007 should be $439.3 billion, a 6.9% increase over 2006 for the Pentagon. That figure does not include the costs of war in Iraq and Afghanistan.

"The United States should correct its wrong view and treat China's peaceful development in an objective and positive manner," Kong said. "It should stop making groundless remarks and do more to benefit the stable and healthy development of China-U.S. relations."

Ruan Zongze, deputy head of the China Institute of International Studies and an expert on China-U.S. relations, said the report criticized China as lacking military transparency.

"The criticism is unacceptable," said Ruan. China has publicized white papers on its national defence annually for many years and issued a first-ever white paper on its peaceful development in December 2005.

Ruan noted that compared with the previous report issued in 2001, this QDR specified China's military potential to challenge the United States. The United States is paying more and more attention to China's military issues.

Zhu Feng, a professor of the International Relations Institute of the prestigious Beijing University, said the United States considers China as the biggest competitor and therefore has continuously strengthened its guard against China.