Japan: Abduction row key to North Korea ties
(Reuters)
Updated: 2006-02-07 08:46
Talks on normalizing diplomatic relations between Japan and North Korea, which Tokyo says hinge on resolving a dispute over Pyongyang's abductions of Japanese citizens, ended without agreement on Monday, a North Korean delegate said.
The two sides did not agree on economic compensation that Pyongyang claims because of Japan's often brutal colonization of the Korean peninsula between 1910 and 1945.
They have made little headway on the abductions issue since bilateral negotiations opened over the weekend in Beijing.
North Korea has admitted abducting 13 Japanese citizens in the 1970s and 1980s to help train spies and says eight of the 13 are dead, but Japan wants more information about the eight and another three it says were kidnapped.
Japan has also demanded the handover of North Korean agents involved in the disappearances.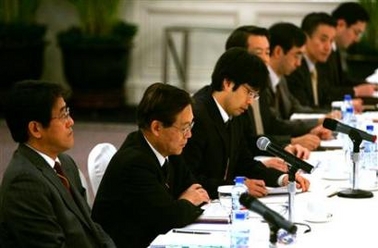 Japanese delegates attend the third day meeting with North Korea in Beijing February 6, 2006. [Reuters]

"With regards to the normalization of ties, this will be difficult if the issue of abductees is not solved," Japan's chief negotiator, Koichi Haraguchi, told reporters.

"With regards for compensating for the past, this can only be discussed within the framework of normalization of diplomatic ties between the two countries," he said.

Monday's talks were scheduled to deal with normalization of ties, rather than abductions.

But even though NHK said he described the talks as "frank," North Korean delegate Song Il-ho complained that Japan's offer -- to give a lump-sum payment of economic aid rather than provide compensation for the occupation -- did not deal with all Pyongyang's concerns, the Kyodo news agency reported.

"We cannot accept (a situation in which the discussions cover) only that method. There are all kinds of issues so we did not reach an agreement," it quoted Song saying.

In Tokyo, Japan's Chief Cabinet Secretary Shinzo Abe urged North Korea to take "sincere" steps to address the abductions.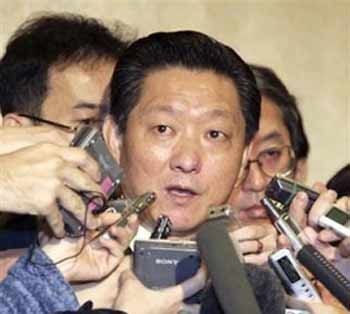 North Korean negotiator Song Il Ho is durrounded by reporters prior to his meeting with Japanese counterparts on Monday February 6, 2006 in Beijing, China. [AP]

"I think political determination is needed by North Korea with regard to the abductees issue," he told a news conference.

The Beijing talks are part of a series of meetings aimed at improving relations that are expected to last six days and address normalizing relations and security issues, including the North's nuclear weapons and missile activities.

Normalizing ties between North Korea and Japan was one of the pledges made in an agreement in principle at six-party talks on Pyongyang's nuclear weapons programs in Beijing in September.

But the parties -- the two Koreas, Japan, the United States, Russia and host China -- have yet to begin implementing the framework and have not met since November.