New protests erupt in cartoon row
(Reuters)
Updated: 2006-02-07 07:07
Fresh protests erupted across Asia and the Middle East on Monday over caricatures of the Prophet Mohammad, despite calls by world leaders for calm after Danish diplomatic missions were set ablaze in Lebanon and Syria.
U.N. Secretary-General Kofi Annan expressed alarm and urged restraint, but oil giant Iran said it had cut all trade ties with Denmark because of the cartoons and vowed to respond to "an anti-Islamic and Islamophobic current."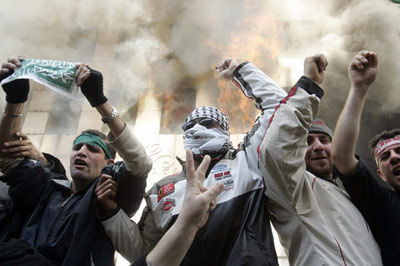 Lebanese Islamist demonstrators chant slogans after setting fire in the Danish consulate in Beirut February 5, 2006. [Reuters]
"All trade ties with Denmark were cut," Iranian Commerce Minister Massoud Mirkazemi was quoted by the Iranian student news agency ISNA as telling a news conference.
He said Iran would stop any Danish goods from entering its customs areas from Tuesday. Iran imports some $280 million worth of goods a year from Denmark.
The announcement came as protesters threw petrol bombs at the Danish embassy in Tehran and tried to break into the compound on Monday night in a protest against the cartoons.
Chanting "God is Greatest" and "Death to America" some 1,000 people rammed the metal gate to the embassy, which sits behind a high wall in northern Tehran. Police drove them back with teargas and arrested some, a Reuters correspondent said.
Firefighters were seen trying to put out a fire inside the compound, apparently caused by a firebomb.
Earlier on Monday, about 200 people pelted the embassy of EU president Austria with petrol bombs and stones over the cartoons and Iran's nuclear confrontation with the West.
Denmark has been the focus of Muslim rage as the images, one showing the Prophet with a turban resembling a bomb, first appeared in a Danish daily and Gulf Muslims have stepped up a boycott of Danish goods.
The furor has developed into a clash between press freedom and religious respect. Depicting the Prophet is prohibited by Islam but moderate Muslims, while condemning the cartoons, have expressed fear about radicals hijacking the affair.