Iran tells nuke agency to remove cameras
(AP)
Updated: 2006-02-07 07:07
Iran has told the International Atomic Energy Agency to remove surveillance cameras and agency seals from sites and nuclear equipment by the end of next week in response to referral to the U.N. Security Council, the agency said Monday.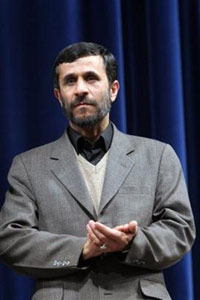 Iran's president Mahmoud Ahamdinejad, claps during a ceremony at the 13th Iranian world prize for Book of the Year, in Tehran, Iran, Monday, Feb. 6, 2006. [AP]

Iran's demands came two days after the IAEA reported Tehran to the council over its disputed atomic program.

In a confidential report to the IAEA's 35-member board, agency head Mohamed ElBaradei said Iran also announced a sharp reduction in the number and kind of inspections IAEA experts will be allowed, effective immediately.

The report was dated Monday and made available to The Associated Press.

The moves were expected. Iranian officials had repeatedly warned they would stop honoring the so-called "Additional Protocol" to the Nuclear Nonproliferation Treaty ¡ª an agreement giving IAEA inspectors greater authority ¡ª if the IAEA board referred their country to the council.

A diplomat close to the Vienna-based IAEA told the AP that Iran had also moved forward on another threat ¡ª formally setting a date for resuming full-scale work on its uranium enrichment program. Iran says it wants to make fuel through enrichment, but the activity can also generate the nuclear core of warheads.

The diplomat, who spoke on condition of anonymity because the matter was confidential, refused to divulge the date set by Ali Larijani, Iran's chief nuclear negotiator, in a letter received Monday by ElBaradei.