Crackdown on pirated goods sees results
By Wu Yong and Wang Ziyi (China Daily)
Updated: 2006-02-06 06:19
Mr and Mrs Xiao now spend their days watching pirated DVDs leftover from their business that was shut down a month ago. The couple had their licence revoked for selling pirated video products in a market in Shenyang's Sanhao Street.
In order to clean up the audio and video product market and better protect intellectual property rights (IPR), China's State Council launched a large-scale operation last year to crack down on IPR infringements nationwide.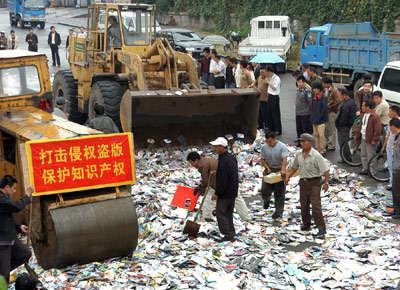 About 500,000 pirated CDs and DVDs are destroyed during a recent crackdown on pirated audio and video products in Shenyang, capital of Northeast China's Liaoning Province. [China Daily]
Dozens of governmental departments were involved in the crackdown, including the Ministry of Commerce, local publication administrations, the police and customs agencies, in major cities such as Beijing, Shanghai, Tianjin and Liaoning Province.
Shenyang's Sanhao Street was one of their main targets in Northeast China's Liaoning Province, where piracy is widespread.
There are two major pirated audio and video product selling areas in Shenyang. One is in the south of the city on Sanhao Street and the other is in the Science and Technology Park of Liaoning University situated in the north part of Shenyang, said Wang Hongyu, head of Shenyang Anti-Pirated Enforcement Team, in a recent interview.
"These two centres provided over 90 per cent of all pirated compact disks (CD) to the city residents. But now you can hardly find any pirated products there," said Wang.
The two markets involved in selling pirated audio and video products were closed down and 79 businesses had their licences revoked for selling pirated products.
Over 1.1 million audio-visual discs were confiscated and then later destroyed.