Polish roof collapse kills 65, more trapped
(Reuters)
Updated: 2006-01-30 13:48
Hopes were fading on Sunday of finding survivors after the roof of a packed exhibition hall collapsed in Poland and rescue workers pulled 65 bodies from the rubble.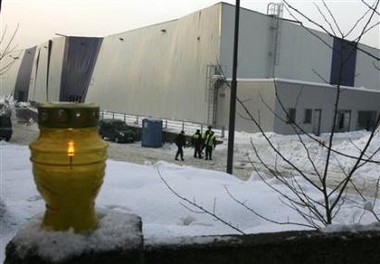 A lit candle stands outside the collapsed exhibition hall in the southern city of Chorzow near Katowice, Poland January 29, 2006. [Reuters]


Overnight temperatures plunged to minus 15 Celsius (5 Fahrenheit) as rescue teams using floodlights battled through snow and debris to try to find survivors from Saturday's disaster in the southern city of Chorzow.

About 140 people were injured when the metal roof of the modern building, the size of a soccer field, collapsed during a packed gathering of pigeon enthusiasts from across Europe.

Dozens of relatives and survivors gathered at a crisis center awaiting news of their friends and loved-ones.

A spokesman for the provincial governor said 65 people had died and fire brigade officials said several dozen could still be under the rubble.

"We haven't managed to find anyone alive yet, we found dead," Lukasz Kusion, a dog rescue team member told TVN24 television. "With every minute, chances are getting slimmer because of low temperatures," he said.

Prime Minister Kazimierz Marcinkiewicz told private Radio Zet that he had witnessed the last person being brought out alive at 10 p.m. (2100 GMT) on Saturday.

As hearses drove up to the cordoned-off site to pick up the bodies, rescuers were bringing out cages of pigeons and rabbits from the rubble. Other pigeons were flying aimlessly around the building in Chorzow, 350 km (210 miles) southwest of Warsaw.

Regional authorities said they might decide to bring in heavy machinery to start removing debris later on Sunday.

HEAVY SNOW

"I was at the higher area when the tragedy occurred and was able to get away. I could hear voices calling for help. I am waiting for information about my friends who were with me," said a sobbing man from the nearby town of Rybnik, his face bruised and bandaged, who had been exhibiting pigeons at the show.

"We heard something snap like a match breaking and people started to panic right away, realizing what was happening," one unnamed witness told the TVN24 television from hospital.

"I started to run and something fell on me, others trampled over me and I was able to crawl out on hands and knees."

The exhibition of racing pigeons, one of the largest in Europe, attracted participants from Belgium, the Netherlands, Germany, Ukraine and Poland, the event's Web site said.

Officials identified one of the dead as a Belgian. Hospitals said five Germans, a Czech and a Belgian were injured.

The fire brigade and police said the weight of snow on the roof caused the collapse, but the building's manager told Polish television the snow had been cleared regularly.

Earlier, some of those trapped under the wreckage used mobile phones to contact rescuers. TV pictures showed a man pinned under part of the roof asking for help. Rescuers blew warm air into the structure in the hope of helping survivors.

Nearly 1,000 police, firefighters and soldiers using cutting equipment and thermal imaging gear were involved in the rescue operation and workers from local mines were called in.

A day of national mourning would be called on Sunday, said Andrzej Urbanski, an aide to President Lech Kaczynski, adding: "A catastrophe on this scale has never happened in Poland."

Poland is experiencing its coldest winter in several decades and, like other parts of Europe, temperatures have fallen to as low as minus 30C. The cold has killed nearly 200 in Poland, disrupted transport and highlighted gas supply problems.

Earlier this month, 15 people were killed at an ice rink in Germany when a roof collapsed under the weight of snow.