Aso rapped for emperor shrine visit remark
(KYODO)
Updated: 2006-01-29 10:21
Japan's Social Democratic Party (SDP) leader criticized Foreign Minister Taro Aso on Sunday for his suggestion that the country's emperor should visit the war-linked Yasukuni Shrine, the Tokyo Shimbun newspaper reported Monday.
In making such a suggestion, the foreign minister "ignored the constitutional principle of separation of politics and religion, as well as the severe consequences caused by Prime Minister Junichiro Koizumi's visits to the Yasukuni Shrine," Mizuho Fukushima, the opposition party leader, was quoted by the paper as saying.
Aso's remarks "contain serious problems," said the opposition leader.
"The reason why the emperor decided to stop visiting the Yasukuni Shrine after 1975 is because it is a move which would affirm and glorify the aggression war," said Fukushima. "It would send a bad political message."
Aso said on Saturday that a visit to the controversial shrine by the emperor "would be the best," and defended Koizumi's repeated visits there, which have severely hurt the feelings of Asian people who suffered from atrocities by Japanese aggression army before and during WWII.
The Yasukuni Shrine started to enshrine top war criminals in 1978. Late Emperor Hirohito last visited it in 1975 and the present Emperor Akihito has never made any visit there.

Emperor urged to visit Yasukuni Shrine: Aso
Japanese Foreign Minister Taro Aso said Saturday it is desirable for the emperor to visit Yasukuni Shrine and told China to stop complaining about Prime Minister Junichiro Koizumi's visits to the Shinto shrine in Tokyo.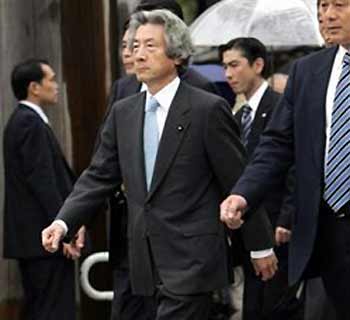 Japanese Prime Minister Junichiro Koizumi arrives at the Yasukuni Shrine in Tokyo Monday, Oct. 17, 2005. [AP]


"From the viewpoint of the spirits of the war dead, they hailed 'Banzai' for the emperor -- none of them said long live the prime minister. A visit by the emperor would be the best,'' Aso said in a speech in Nagoya.

The remarks by the hawkish foreign minister risk further damaging chilled relations with China and South Korea, victims of Japanese militarism before and during World War II who have strongly protested Japanese leaders' visits to the shrine that honors 14 Class-A war criminals along with the war dead.

The last visit by an emperor to Yasukuni was in November 1975 by Emperor Hirohito, posthumously known as Emperor Showa.

The Class-A war criminals, including executed Prime Minister Gen. Hideki Tojo, were enshrined Oct. 17, 1978.

On criticism against Koizumi's visits, Aso said, "The more China voices (opposition), the more one feels like going there. It's just like when you're told 'Don't smoke cigarettes,' it actually makes you want to smoke. It's best (for China) to keep quiet."

Beijing and Seoul have called off summit talks with Japan in protest against Koizumi's most recent visit to Yasukuni on Oct. 17 last year. He has visited the shrine once a year since taking office in 2001.