Iran to use missiles if attacked: Official
(Reuters)
Updated: 2006-01-29 09:23
Iran would retaliate with medium-range missiles if attacked, a military commander said Saturday, and he accused Britain and the United States of arming rebels within the country.
"If we come under a military attack, we will respond with our very effective missile defense," the leader, Yahya Rahim Safavi, commander in chief of the Revolutionary Guard, told state television.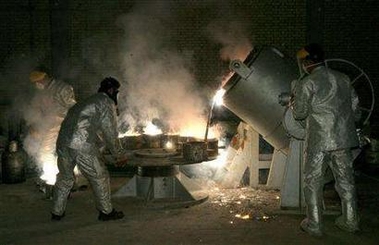 Technicians work at a uranium processing site in Isfahan, Iran in this March 30, 2005 file photo. The foreign ministers of the U.N. Security Council's five permanent members and Germany will meet in London on Monday to try to agree on how to tackle Iran's nuclear program, the New York Times reported on Wednesday. [Reuters]


The threat came as international pressure has intensified on Tehran to give up its nuclear program. Although Iran insists that its program is strictly for electricity generation, Western countries have accused it of working to build a nuclear bomb. The United States and Israel, in particular, have refused to rule out military strikes if diplomacy fails.

Military experts estimate that Iran's medium-range missile design, the Shahab 3, can strike targets more than 1,200 miles away. That would put Israel, American military bases in the Persian Gulf region, and troops in Iraq within their range. The missiles are directly under the command of the Revolutionary Guard, a parallel military force that answers directly to Iran's supreme leader, Ayatollah Ali Khamenei.

Mr. Safavi repeated the Iran's allegations that Britain and the United States were arming rebels in the southwestern province of Khuzestan, which has most of Iran's abundant oil reserves. On Tuesday, bomb explosions killed eight people in Ahwaz, a city in Khuzestan.

"Occupying forces in Iraq, particularly those in the south, provide Iranian agents with material for bombing," he said. "British and U.S. intelligence services should avoid interfering in our affairs."

But the Iranian foreign minister, Manouchehr Mottaki, said Saturday that Tehran was willing to work with Britain to put an end to the violence.

"Iran's security officials have said they are ready to hand over to British officials the documents related to the previous and recent incidents in Ahwaz," Mr. Mottaki told a news conference. "We hope that, by means of constant follow-ups, we reach tangible results that could prevent such events from happening again."

A group fighting for the independence of Iran's Arab minority claimed responsibility for Tuesday's attacks, but the claim could not be verified.