Top leaders visit farmers on New Year's Eve
(Xinhua)
Updated: 2006-01-29 08:43
Chinese President Hu Jintao and Premier Wen Jiabao both came to farmers' families to celebrate the lunar New Year. Experts said their New Year trips to rural areas showed the top leadership's resolution to build a new socialist countryside aimed at common prosperity.
Joining villagers in dancing popular rural folk dance "Yangge" and making glutinous rice cake or "niangao," President Hu spent the New Year's Eve in farmer Kang Haifa's home, in Hougoumen Village of Ansai County in the revolutionary base of Yan'an, in northwest China's Shaanxi Province.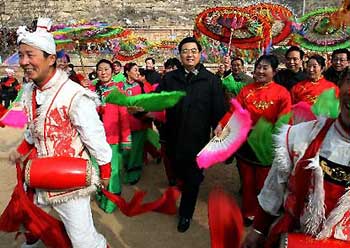 President Hu Jintao joins villagers in folk dance to celebrate the Chinese New Year in Hougoumen Village of Ansai of Yan'an, in northwestern Shaanxi Province on Jan. 28, 2006. [Xinhua]
Enjoying fried "niangao" with family-made rice wine, he told Kang's family that the goal of building a new socialist countryside in China is to ensure the farmers become rich more quickly, so that festival food such as "niangao" will become their daily diet and their standards of living will become better year by year.
Premier Wen on Friday and Saturday visited the people in east China's Shandong Province. In farmer Guo Xuchen's home, in Guozhuang Village of Heze City, the premier gave money to Guo, whose wife has been sick for years and who have financial difficulties in living.
On Friday afternoon, he went to a village clinic and talked with doctor Dong Longxiang. "We should boost the new rural cooperative medical system so that farmers can afford medical care," he said.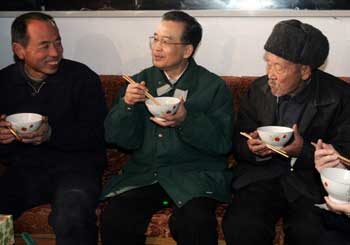 Premier Wen Jiaobao eats dumplings with people in Guozhuang Village of Heze City, Shandong Provice on Jan. 28, or the Chinese New Year's eve. [Xinhua]
John McDonald, an expert on China issues living in New Zealand,said in a Xinhua interview that the fact of Chinese leaders visiting farmers at the country's most celebrated holiday for three straight years demonstrated their great concern to farmers and the countryside.
"Their new year trips to rural areas also illustrated the Chinese government's resolution to narrow the gap between the countryside and city, farmers and urban citizens, so as to avoid social disturbance and build a harmonious society," he said.
Wu Jiang, an expert on governmental administration and president of the Chinese Academy of Personnel Science, said in an interview with Xinhua that the President and Premier are taking actions to tell the general public that the construction of "a new countryside" is by no means a slogan, but a top issue in government's work agenda.
The 5th Plenum of the 16th Central Committee of the Communist Party of China mapped out a scheme to boost the construction of a new socialist countryside in October 2005.
The objectives of the scheme include continuously development of agriculture, affluent and civilized for rural residents, good village environment and democratic administration of village affairs.
To reach the objectives, Premier Wen promised in an important speech on rural issues made on Dec. 29, 2005 that the Chinese government will, in the 2006-2010 period, input more financial resources to improve farmers' living and production conditions, promote compulsory education in rural areas, maintain the balance between food supply and demand, deepen institutional reform at the township level and financial reform at county and township levels,provide subsidized medical care and social security for rural residents and curb illegal farmland acquisition.
"Actually, a series of policies in favor of rural areas were taken in the year 2005," said Wu, the government administration expert.
Last December, the Standing Committee of the 10th National People's Congress, China's top legislature, abolished the 2,600-year-old agricultural tax. In fact, with the fast economic development in the country, the government began to phase out the agricultural tax on a trial basis as early as in 2000. The tax reform helped reduce farmers' tax burden by 23.4 billion yuan (2.9billion U.S. dollars) from 2001 to 2004 and 22 billion yuan (2.7 billion U.S. dollars) in 2005.
Premier Wen announced last December that tuitions for nine-year compulsory education in rural areas would be exempted within two years. The central government and local governments at various levels would allocate a total of 218.9 billion yuan (27 billion U.S. dollars) to subsidize compulsory education in rural areas in the 2006-2010 period.
A report issued by the national legislature last October for the first time disclosed that about 40 million farmers had lost farmland in the country's urbanization process.
Premier Wen said in his latest speech that "we absolutely can't commit an historic error as far as the issue of land is concerned," which demonstrates his and the government's strong will to effectively curb the rampant land seizures for non-agricultural purposes in rural areas.