Iran, Georgia strike gas deal amid crisis
(AP)
Updated: 2006-01-28 09:02
Georgia struck a deal with Iran for emergency natural gas supplies Friday, as the tiny U.S.-ally suffered through its worst energy crisis in years and government officials accused Russia of waging an energy blockade.
Dawn-to-dusk lines persisted in the capital Tbilisi for a second day, as desperate Georgians queued up for kerosene and firewood to heat their homes amid the largest snowfall in years. Many from the former Soviet republic, from President Mikhail Saakashvili down to those shivering in below-freezing temperatures in the capital, struck a note of defiance.
"It's an energy blockade. That's what it is," said 58-year-old Bichiko Gveseladze, who waited six hours along at least 500 other people for government-subsidized kerosene. "Russia is doing it because they don't want Georgia to be fully independent."
Nearly a week after explosions shut down a gas pipeline in a Russian border region and nearly two days after winter weather downed a major electric transmission line, Georgian officials announced a deal that sees Tehran supplying 71 million cubic feet of gas a day via Azerbaijan pipelines.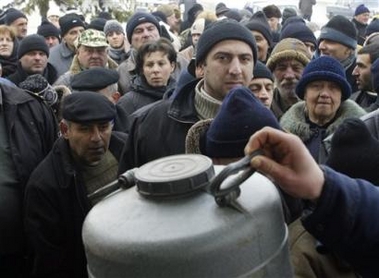 Georgians line up to get kerosene in Tbilisi, Georgia, Friday, Jan. 27, 2006.[AP]

Saakashvili, a pro-Western leader who has built close ties with Washington as he pursues his goal of ending Russian influence, told his Cabinet that Iran had agreed to supply gas via Azerbaijan no later than Monday.

Standing in a slushy street, a shivering Mimosa Maisuradze, 49, held up her right hand to show a reporter the number 428 ! inked on at 8 a.m. when she lined up for kerosene at a filling station.

"What else are going to do?" she said. "I believe in (Saakashvili), but I believe more in God."

Down the hill, the smell of wood smoke hung over several dozen people as they angrily pressed against a government truck where members of the president's political party were handing out free firewood.

"This is only political. All of this crisis," said Boris Khvibliani, a 65-year-old retired energy sector worker. "This is the 21st century. (Russia) wants everything. Enough already."

The head of Georgia's International Gas Corporation, David Ingorovka, told Rustavi-2 TV from Tehran that technical details for transporting the gas via Azerbaijan needed to be worked out. Representatives from Georgia, Iran and Azerbaijan ! itself a major energy supplier ! were to meet later Friday in the Iranian capital.

The deal signals Tbilisi's determination to reduce dependence on Russia ! the world's second largest oil exporter and Europe's largest supplier of natural gas ! and highlights Tehran's importance in the region as an alternative energy supplier.

"The amount will be enough to restore electric and gas supplies," Saakashvili said. "Thus we will create a good mechanism of alternative gas sources. And Russia should be aware of this."

Saakashvili declined to say how much Iran was charging, but some Georgian reports said Iran was asking $120 per 1,000 cubic meters ! higher than the $110 Russia currently charges.

Underscoring the seriousness of the crisis, Saakashvili cut short a trip to the World Economic Forum in Switzerland ! where he was hoping to sell business elites on the country's economic prospects ! and flew home.

Over the weekend, an explosion on a major gas pipeline that runs through the Russian border region of North Ossetia cut supplies. The misery worsened early Thursday when a windstorm downed power lines leading from the Inguri hydroelectric station to eastern regions, leaving about 3 million people without electricity.

Then, a Tbilisi power station unit malfunctioned, leaving most of the capital's 1.5 million residents ! more than a third of the country's population ! to scrounge for other heating options as daytime temperatures fell to 18 degrees.

Saakashvili has suggested that Russia was stalling repairs of the gas pipeline to punish the country and recent pro-Western policies ! suspicions shared by many Georgians. Russian officials have rejected the allegations, blaming the blasts on sabotage, and said the repairs are close to completion.

The 1991 Soviet collapse and civil war in the early 1990s left much of Georgia's energy infrastructure decrepit and in desperate need of repair, forcing many to rely on generators and wood- and gas-fired heaters and stoves.

In recent years, the situation had stabilized with fewer outages and Saakashvili, who came to power on the wave of the 2003 Rose Revolution, had restored optimism for many Georgians.

Georgia's closer cooperation with Tehran could lead to awkward questions from the United States, which is seeking Iran's referral to the Security Council for reopening its uranium enrichment program ! work that could give it the capacity to make nuclear weapons. Yet as relations with Moscow become increasingly strained, Georgia's energy options are limited, analysts say.

"What are the alternatives?" said Kakha Kiknavelidze of Brunswick UBS in Moscow. "Iran, or to be left without gas."