Sina.com cuts links with erotica
(FT.com)
Updated: 2006-01-28 08:12
The "Photo Tech" section of Sina.com, China's leading internet portal, offers a cornucopia of images ranging from exotic landscapes to tasty-looking hotpots, but until recently one of the most popular sections was the one discreetly titled "body photographs".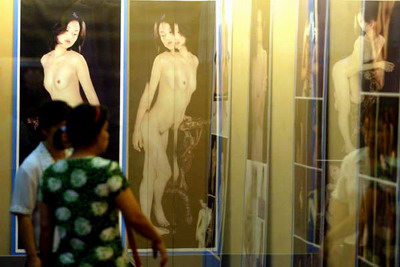 Visitors look at the nude women photoes applying the three-dimensional photographic techniques at Huangzhou photo exhibition. [Guangzhou Daily]
This month, however, weblinks to the section have been cut and its hundreds of erotic images of the naked female form removed, leaving only a pro-forma warning that reads: "It is forbidden to upload pictures that are pornographic, obscene or otherwise unhealthy."
The sudden removal of the section highlights the sensitivities that still surround the portrayal of nudity in China.
Pornography, outlawed in all its forms by the Chinese government after 1949, remains strictly illegal. Art that involves nudity, however, is now officially accepted. The problem, in China as elsewhere, is telling the difference.
"There are no regulations for the publication of 'body art' books," says a manager at Popular Photography, a magazine that often features nudes. "After publication, if the relevant government department decides it is pornography, it's pornography."
Despite the sudden emptying of the Sina.com body photography site, it is clear that officials are increasingly tolerant of nudity.
In the 1980s, albums of classical western paintings that included nudes were supposed to be sold only to buyers such as art students who could demonstrate a legitimate interest.
Such caution stemmed in part from the fact that while China has a rich tradition of graphic sexual paintings and prints, nudity has never played a big role in its public art. An exhibition of painting featuring nudes in Beijing in early 1989 drew huge crowds of wide-eyed visitors ¨C and lawsuits from featured artistsĄŻ models shocked by the unexpected exposure.
Nakedness in painting and sculpture is uncontroversial these days, however, and is helping win acceptance for nude photography too. Chinese airport bookshops now groan with collections of erotic photographs featuring pubic hair and revealing poses, with the odd conventional art book mixed in to add respectability.
Even fans of Photo Tech's tasteful erotica have no need to be disappointed. Nude photographs by the hundred still feature on Sina.com's bulletin boards.