Super Voice Girl Li lights up Chinese lanterns in London
(AFP)
Updated: 2006-01-27 09:14
London kicked off what were heralded as the largest Chinese New Year celebrations outside Asia, beginning a major festival of the country's artistic, cultural and culinary heritage.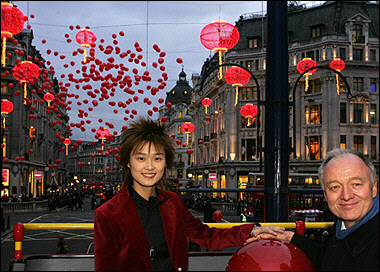 Chinese pop star Li Yuchun (L) and London's Mayor Ken Livingstone launch "China in London 2006" by switching on a Chinese Lantern display and releasing ballons at Oxford Circus in London. [AFP]


Pop superstar Li Yuchun, 21, was guest of honour in the busy Oxford Street shopping district to switch on the hundreds of red Chinese lanterns that will light the way to the bustling Chinatown district of Soho.

Fans of the singer, who shot to fame after winning a TV talent contest, travelled from across Britain to catch a glimpse of their idol, including Chuan Yao, who trekked 410 miles (660 kilometres) from the Scottish capital.

"I'm really excited about this," the 23-year-old Chinese literature student at Edinburgh University told AFP while clutching a poster of her heroine.

Others, including Wen Wen, 23, and her 22-year-old friend Hui Hui, made the trip from Birmingham, central England, where they are both studying, especially to see Li in concert at City Hall with British all-girl group Liberty X.

"I think it's very nice because she's the most famous pop star in China," said Wen, who originally comes from the eastern Zhejiang province.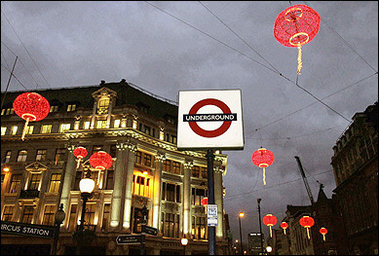 This picture released by the Freud Communications(FC) shows Chinese lanterns on Oxford St in London as the British capital celebrates the Chinese New Year, the Year of the Dog. [AFP]


The focus of the celebrations is the annual Chinese New Year Parade to Trafalgar Square, the iconic plaza centred around the imposing statue of Admiral Lord Nelson, arguably Britain's most famous naval commander.

Last year, more than 80,000 people flocked to events in the square, nearby Leicester Square and in Soho itself, according to organisers the London Chinatown Chinese Association, but more are expected this Sunday.

Suzannah Kwok, from the association, told a central London news conference 350 performers will take part in the parade, with dragon and lion dances, contemporary music and dance to usher in the Year of the Dog.

"We're proud we're officially the largest Chinese New Year celebration outside China," she said, quoting an endorsement from the mayor of Beijing.

As fireworks rocket into the sky and restaurants open their doors Sunday, the giant London Eye ferris wheel on the south bank of the River Thames will be lit red to mark the occasion.

More than 100 other events are planned across the city until March, including a Chinese film festival, theatre, photography and art exhibitions.

Judith Woodward, advisor to London Mayor Ken Livingstone, told reporters they wanted to both celebrate Britain's links with China and tap into the burgeoning Chinese economy and tourist market.

"There are 13.5 million tourists leaving China annually. It's expected that by 2010 there will be 50 million tourists. We want all of these tourists to have London on the list of their destinations," she said.