China welcomes Russian proposal on Iran
By Qin Jize (China Daily)
Updated: 2006-01-27 06:48
China welcomed a plan to enrich Iran's uranium on Russian territory Thursday, saying the nation supports all kinds of diplomatic efforts to properly resolve the Iran nuclear issue.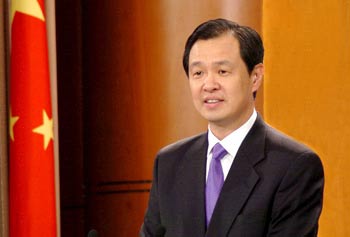 Chinese Foreign Ministry spokesman Kong Quan. [Xinhua/file]
"We believe the proposal could be a useful attempt to break the stalemate," Foreign Ministry spokesman Kong Quan said, "We hope all parties involved will use their wisdom to provide new proposals and resume the talks."
The European Union and the United States have previously given backing to the plan.
Kong added that China has received no "formal invitation" from Iran to take part in the Russian's proposal.
Kong reiterated China's policy of negotiations on the Iran nuclear issue, urging all the involved countries to take more practical diplomatic efforts to end the global standoff.
Iran is facing a referral to the United Nations Security Council for possible sanctions against it because Western nations are worried that it may seek to build an atomic bomb.
Kong told reporters at the last regular press briefing that China preferred diplomatic channels to other methods of resolving the issue.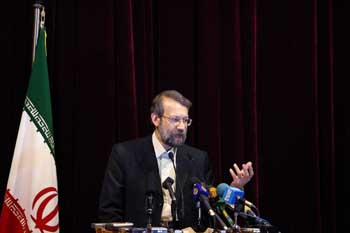 Top Iranian nuclear negotiator Ali Larijani speaks during a news conference in Beijing January 26, 2006. Iran is willing to show flexibility in solving Tehran's nuclear standoff, but is not happy with threats of force to resolve the problem, Larijani said on Thursday. [Reuters]
China is a key player in the international effort to address concerns over Iran's nuclear issue, as it is a permanent veto-wielding member of the UN Security Council.
"All Non-Proliferation Treaty countries' rights to peacefully use nuclear power should be respected, but we must emphasize that these countries should also strictly abide by the relevant regulations," he said.
China is opposed to using sanctions or threatening sanctions, which always complicate the issue, he said.
According to Kong, China has kept contacts within the UN Security Council and other parties to push the process of a peaceful negotiation forward.
Top Iranian nuclear negotiator Ali Larijani, who arrived in Beijing Thursday for a one-day visit, held talks with State Councillor Tang Jiaxuan and Foreign Minister Li Zhaoxing.
During his talks with Chinese Foreign Minister Li Zhaoxing, they mainly discussed the Iran nuclear issue and other related topics concerning the growth of bilateral relations.