Officials: Hamas wins Palestinian election
(AP)
Updated: 2006-01-26 20:46
Hamas' top official told Palestinian leader Mahmoud Abbas on Thursday the Islamic militant group is ready for a partnership after defeating the ruling Fatah Party in parliamentary elections — a shocking upset sure to throw Mideast peacemaking into turmoil.
Officials in both parties said Hamas appeared to have captured a large majority of seats in Wednesday's elections. The Central Election Commission said the vote count had not been completed and that it would make an official announcement Thursday evening.
Abbas' Fatah Party will decide later in the day whether to join a Hamas-led government or serve in the opposition, Palestinian Information Minister Nabil Shaath said.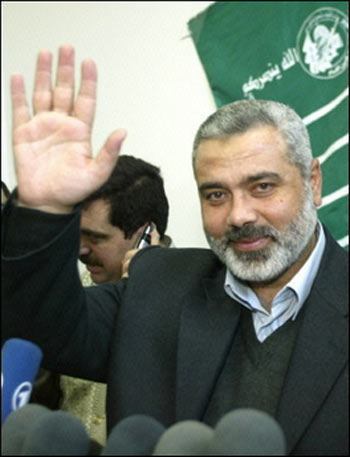 Senior Hamas leader and top candidate for the Palestinian parliamentary elections, Ismail Haniya, waves during a press conference held at his house in al-Shati refugee camp, in Gaza City. Palestinian leader Mahmud Abbas was set to ask Hamas to form a new government after its stunning election victory plunged the stalled Middle East peace process into fresh turmoil.[AFP]
Earlier, Fatah legislator Saeb Erekat said after a meeting with Abbas that the party has already decided to serve in the opposition. "Hamas will be asked to form the new government," Erekat said. "We in Fatah will not join them. We will be a loyal opposition and rebuild the party."
Abbas, who favors peace talks with Israel, has said he would resign if he could no longer pursue his agenda. Aides said he planned a major speech Thursday night.
Israel and the United States have said they would not deal with a government led by Hamas, which has carried out dozens of suicide bombings and which they consider a terrorist group.
Acknowledging the Hamas victory, Palestinian Prime Minister Ahmed Qureia and his Cabinet ministers resigned Thursday — hours before official results were released.
"This is the choice of the people. It should be respected," Qureia said. "If it's true, then the president should ask Hamas to form a new government." The Cabinet remained in office in a caretaker capacity.
By law, Abbas must ask the largest party in the new parliament — presumably Hamas — to form the new government. Abbas was elected separately a year ago and remains president.