State banquet available for Chinese public
(Chinanews.com)
Updated: 2006-01-26 10:51
The banqueting hall in the Great Hall of the People, which can receive 5,000 diners simultaneously, has feasted numerous state leaders, VIP guests and celebrities. Nowadays, the banqueting hall is open to ordinary citizens to taste state banquets.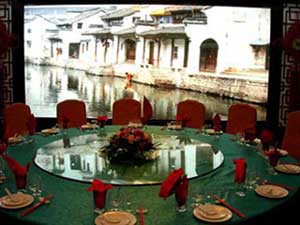 A dinner table in the banquet hall of the Great Hall of the People now hosts ordinary people. [Chinanews.com]


The most impressive banquet should be the first state banquet after the foundation of the People's Republic of China (PRC). On the evening of October 1, 1949, the day when the founding ceremony was held, the Central People's Government prepared the first grand state banquet of PRC at the Beijing Hotel.

After careful consideration, Premier Zhou Enlai decided to serve up dishes of Huaiyang flavor. Huaiyang cuisine is both noble and plain. Elaborately prepared Huaiyang dishes which preserve the original flavor of raw materials are very appealing to the palate of the masses.

On that evening, more than 600 people including founding fathers of PRC and representatives from all walks of life attended the first state banquet. Afterwards, this banquet won fame all over the world.

It set a keynote of simpleness for subsequent state banquets which are mainly composed of Huaiyang cuisine.

Senior chef Zhang Fuzhi with the Yuhuatai Restaurant participated in preparations for the first state banquet. Several decades later, Zhang's last apprentice Shen Jianguo, who is now the chief chef of the Yuhuatai Restaurant, introduced the first state banquet with a low price of 600 yuan (US$73) to ordinary residents in Beijing in an effort to arouse people's memory of the past years through dainty foods.

Shen said that the first state banquet has become an anecdote of the catering culture. Its re-launch can not only enrich ordinary citizens' menu but also enable people to relive the past days.