Norway breaks Sri Lanka peace deadlock, talks in Geneva
(AFP)
Updated: 2006-01-26 09:52
Norway broke a near three-year deadlock in Sri Lanka's peace talks by clinching a deal with the warring parties to meet face-to-face in Geneva by mid-February.
In Colombo, the beleaguered Sri Lankan government on Wednesday welcomed the development as a "major relief" and hoped that the latest wave of violence that has claimed at least 152 lives since December would come to an end.
The talks would focus on strengthening their ceasefire which was on the brink of collapse after the surge in violence, envoy Erik Solheim told reporters in this rebel-held political capital.
Solheim had a rare meeting with Tiger supremo Velupillai Prabhakaran who in November put Colombo on notice to make a reasonable autonomy deal this year or face re-igniting a separatist war.
The proposed meeting in mid February would be the first time that the two sides have held talks since they left the negotiating table in April 2003. Previous diplomatic efforts had failed to end the deadlock.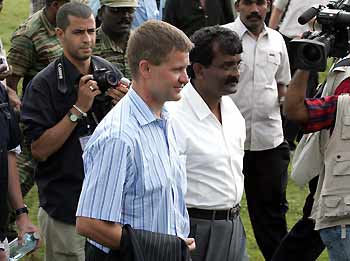 Norwegian Minister of International Development and Special peace envoy Erik Solheim (front), accompanied by Tamil Tiger rebels and journalists, arrives to meet with rebel leaders in Kilinochchi, northern Sri Lanka, January 25, 2006.[Reuters]

"This is a major relief to the government and to the citizens of Sri Lanka," government spokesman Nimal Siripala de Silva said in Colombo after Solheim briefed President Mahinda Rajapakse on his latest success after meeting the Tigers.

"We are confident that the killings will now stop," de Silva said adding that the breakthrough had helped subside fears that the country could slip back to its decades old separatist war which had claimed more than 60,000 lives.

The Norwegian envoy, who is also Oslo's international development minister, travelled here after separate talks with Rajapakse Tuesday.

The envoy said Rajapakse was keen on a peace deal.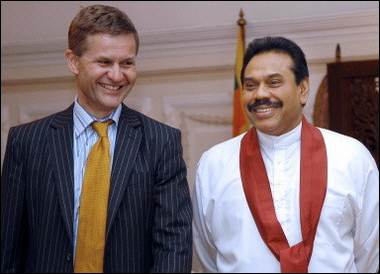 Norwegian special peace envoy, Erik Solheim meets with Sri Lankan President Mahinda Rajapakse (R) in Colombo. [AFP]

"He is eager to see peace in Sri Lanka," Solheim said of his talks with the president.

He said the first ice-breaking meeting between Rajapakse's government, which came to power in November, and the Liberation Tigers of Tamil Eelam (LTTE) would be in Geneva.

"There may be a need for more meetings," Solheim said. "They would be held in Switzerland or elsewhere in Europe."

He said the agenda for next month's meeting would be "to strengthen the ceasefire agreement." There is a need "to create a climate that is conducive for peace," he said.

Solheim also stressed the need to reduce attacks on the Norwegian-led Sri Lanka Monitoring Mission (SLMM), which suffered a bomb blast earlier this month. The SLMM is monitoring the truce that went into force in February 2002.

"It was very, very difficult, if not impossible, to keep the ceasefire" unless attacks are stopped, Solheim said. "Every possible measure must be taken to guarantee the security of the SLMM."

Asked if both sides had agreed to stop the latest wave of violence, Solheim replied: "The agreement between the two parties will have to be made at the meeting."

LTTE's chief negotiator Anton Balasingham said they wanted talks with the new government as soon as possible but also sought an end to violence.

London-based Balasingham, who flew in here on Monday to join the Solheim-Prabhakaran talks, said the LTTE would discuss with Colombo only about implementing the truce.

He ruled out amending or re-negotiating the ceasefire as demanded by nationalist coalition partners in Rajapakse's government. Rajapakse Wednesday won support from four opposition legislators who defected to his side reducing his dependency on hard-line nationalist legislators.

Balasingham said they pledged that the Tigers would not resort to violence.

"It is extremely important for the government to take urgent measures to instruct its armed forces to cease acts of violence against civilians and the LTTE," Balasingham told reporters after Solheim had left.

He also called on the government to halt "paramilitary" violence against Tamil people and the LTTE.

The Tigers have accused the government of supporting a breakaway faction to carry out attacks against the mainstream LTTE.

Prior to meeting Prabhakaran, Solheim said he was unsure if bombings late Tuesday in Colombo, 330 kilometres (205 miles) south of here, were aimed at derailing his peace effort.

"I have no way of knowing whether they are politically motivated or not," he said.

On the eve of his visit, five simultaneous explosions rocked Colombo, prompting suspicion from police sources that Tigers were responsible. There were no casualties.