Bird flu claims another life in China
(Reuters)
Updated: 2006-01-26 07:15
A Chinese woman infected with bird flu has died, the Ministry of Health said in Beijing Wednesday, and Indonesia treated a chicken seller suspected of contracting the virus.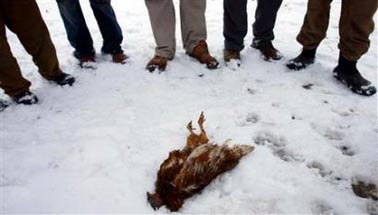 People stand next to a dead chicken as they wait for a veterinary worker in the eastern Turkish town of Dogubayazit in this January 8, 2006 file photo. [Reuters]
The victim, a 29-year-old woman surnamed Cao, was the seventh person to die from bird flu in China since November.
The woman died on Monday after falling ill with a fever on January 12, the ministry's information office was quoted as saying by Xinhua news agency. She worked in a shop selling dry goods. There is not evidence of her exposure to diseased birds, but authorities was investigating, said Xinhua.
The death is the second in the Sichuan province this month.
The two victims lived in prefectures around 150 km (90 miles) apart.

Bird flu has killed at least 83 people since it reemerged in late 2003, according to WHO figures.
Experts believe the H5N1 virus is contracted through close contact with sick birds, but fear that as the virus will mutate to be able to spread easily from human to human, sparking a pandemic that could claim many lives.
Markets Warning
Asia remains the epicentre of the fight against bird flu, although the virus has this month killed children in Turkey as it spreads westwards to the edges of Europe.
The WHO highlighted the threat posed by traditional markets in Indonesia, after local tests showed a chicken seller was infected with the H5N1 virus.
Hariadi Wibisono, director of control of animal-borne diseases at the Health Ministry, said the 22-year-old man was being treated in a Jakarta hospital for bird flu patients.
The WHO called for preventive measures included limiting contact between humans and poultry in markets, as well as better access to water and improved waste management.
"Massive interaction between humans and live poultry takes place every day in wet, traditional markets here and it might be a potential transmission of avian influenza," Alexander von Hildebrand, the WHO's Southeast Asia regional adviser for environmental health, said in a statement.
A Japanese group helping defectors from North Korea said a woman in Pyongyang was infected with bird flu last month after chickens carrying the disease were found in the capital.
North Korea's state media said in November it was stepping up its efforts to counter an outbreak of bird flu, but no cases of human infection had been reported.