Cross-Straits charter flights begin to peak
By Bao Daozu (China Daily)
Updated: 2006-01-26 06:31
Seven Taiwan and mainland airlines operated eight round-trip charter flights Wednesday, the fifth day of this year's charter scheme.
The flights went between Beijing, Shanghai, Guangzhou and Xiamen on the mainland, and Taipei and Kaohsiung on the island.
Another 27 round-trip flights will run from Thursday to Saturday before the Chinese Lunar New Year begins on Sunday.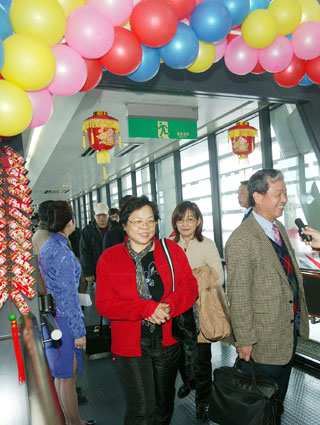 Passengers from Taiwan are all smile when they arrive in Shanghai January 20, 2006, lifting the curtain of Spring Festival chartered flights between Taiwan and the mainland. [newsphoto]
Li Bingcai, vice-minister of the Taiwan Affairs Office of the State Council, said the current cross-Straits charter programme still fails to meet the demand of Taiwan compatriots, despite the great convenience it has brought.
"We hope the civil aviation associations on both sides can open talks as soon as possible to establish cross-Straits charters on major festivals, or even make them regularly throughout the year," he said.
"Meanwhile, we will also make the effort to open up three direct links at an early date."
The remarks were made at the Beijing Capital International Airport after a seeing-off ceremony for this year's first direct charter flight between Beijing and Taipei, Air China Flight CA197.
Air China used a specially designed aircraft, painted with the Beijing Olympic logo and the Games' slogan, "One World, One Dream."
Gifts were presented to each of the 100 passengers onboard, which included Olympic mascots and souvenirs.
Because of Taipei's decades-old ban on the three direct links trade, transport and postal services across the Straits, travellers usually have to make an extra stop, typically in Hong Kong or Macao.
But under an agreement worked out by the civil aviation associations of the two sides, six Taiwan airlines and six mainland airlines are allowed to provide a total of 72 non-stop round-trip charter flights between January 20 and February 13.
This time, the two Shanghai-based airlines taking part in the direct flights across the Straits are both confident to make a profit, as opposed to last year's losses.
China Eastern Airlines, one of the country's three biggest airlines, is designated to fly 10 round trips over the period.
Its first flight, Mu2171, took off at 9:41 yesterday morning from the Pudong International Airport, carrying 284 passengers.
Shanghai Airlines, operating six round trips during the period, flew its first flight Tuesday morning.
"The booking situation is much better than it was last year," said Wang Wanlong, PR manager of Shanghai Airlines.
In Guangzhou, China Southern's first chartered flight took off at 10 am and returned at around 2:00 pm yesterday.
"Such chartered flights help us save money and time and make our journey home much more convenient than with the stopovers in Hong Kong or Macao," noted Wu Jennchang, president of the Guangzhou Taiwan Business People Association.
Most of the Taiwan passengers are from the Pearl River Delta in Guangdong Province, and Southwest China's Guangxi Zhuang Autonomous Region and Sichuan Province, he said.
This year, Xiamen is set as one of the charter flight destinations for the first time.
"As the first aviation company flying to Xiamen in the 57 years, I am very excited," said Fan Zhiqiang, chairman of the board of TransAsia Airways. "Although it is a little late for launching the airline, it is still making progress. Now, in every flight, 90 per cent of the seats are booked."
This is the third year that the cross-Straits Spring Festival charter flights have been in operation. In 2003 and 2005 they were limited to Taiwanese businesspeople residing on the mainland, but this year Taiwan students and tourists have also been allowed to book space.
Yang Guoqing, deputy director of the General Administration of Civil Aviation of China, said this year's charter flights are expected to transport 27,000 passengers across the Straits, compared with about 10,000 in last year.