Latest AIDS victims put at 650,000, down 20%
By Sun Xiaohua (China Daily)
Updated: 2006-01-26 06:24
China revised downward its estimate of AIDS/HIV victims in the country by 22 per cent Wednesday, citing previous overestimation.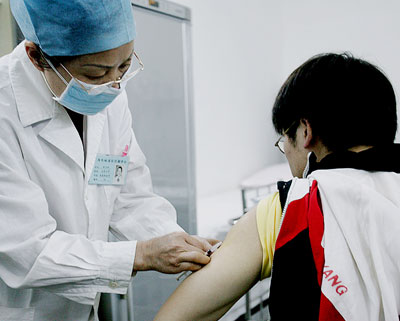 A volunteer receives a dose of AIDS vaccine in the first clinical test to fight the disease in Nanning, Guangxi Zhuang Autonomous Region in this March 12, 2005 file photo. [newsphoto]
At the end of last year, China had an estimated 650,000 people living with AIDS/HIV, 75,000 of whom had full-blown AIDS, according to a joint study by the Ministry of Health, the World Health Organization (WHO), and the Joint UN Programme on HIV/AIDS.
China estimated in 2003 that 840,000 people were HIV-positive and 84,000 people had full-blown AIDS.
The updated figures were released at a news briefing by the three organizations Wednesday.
"The main reason behind the lowered figures is that the number of AIDS/HIV patients infected through blood selling and homosexual activity was over-estimated in 2003," said Wang Longde, vice-minister of health.
Even so, he said, there is no room for complacency as experts have warned that China still faces a tough challenge in trying to prevent and control the disease.
The latest figures suggest that about 200 people a day fell victim to AIDS or HIV last year, during which 60,000 to 80,000 new HIV infections were recorded.
Most of the infections were through unsafe sex, accounting for 49.8 per cent of total cases, and drug injections, 48.6 per cent.
"The picture is not rosy in China," said Henk Bekedam, the WHO representative in China.
He called for greater HIV/AIDS awareness campaigns and more free testing and treatment for HIV-positive people.
"Public awareness of HIV/AIDS is still far too low, some might argue even dangerously low," he said. "Awareness campaigns must be stepped up across the country."
Sexual transmissions account for most of the new infections, indicating that AIDS/HIV victims have moved from being a high-risk group, such as drug users, to the general public, said Wang, who added: "The disease, in fact, is close to everyone."
Official statistics indicate there are about 127,000 prostitutes and clients infected with AIDS/HIV, accounting for 19.6 per cent of all reported infections. But the ministry said infection through blood selling and transfusion is now under control in China.
Last year, 94.5 per cent of the blood used in operations came from blood donation, compared with 22 per cent in 1998.
Now the number of AIDS/HIV victims infected through blood selling and transfusion is 69,000, or 10.7 per cent of the total infections.
Most of the infections are recorded in Henan, Hubei, Anhui, Hebei and Shanxi provinces.
In 2004, China conducted a survey among the blood-selling population nationwide. The latest result indicated that the number of those infected with AIDS/HIV was far below the 2003 estimate.