Hamas and Fatah face off in Palestinian vote
(AP)
Updated: 2006-01-26 06:05
Hamas made a stronger-than-expected showing in the Palestinians' first parliamentary election in a decade Wednesday, and the ruling Fatah Party may have to include the Islamic militants in a coalition government, according to exit polls.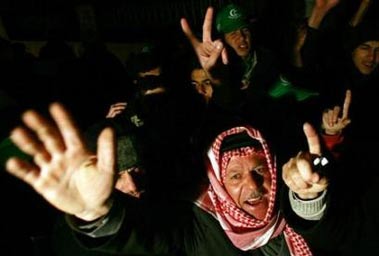 Supporters of Hamas gesture after polls closed in a Palestinian election in the West Bank city of Hebron January 25, 2006. Islamic militant group Hamas made a strong showing in the Palestinian parliamentary election on Wednesday, just a few percentage points behind the ruling Fatah movement, first projections showed. [Reuters]
The impressive results for Hamas, competing in its first election ever, reflected popular discontent with Fatah, the secular party that has led the Palestinian Authority since its creation 12 years ago and has been accused of widespread corruption and mismanagement.
The election was the Palestinians' first truly competitive vote, and officials hoped it would help cement democracy in the post- Yasser Arafat era. But it also gave unprecedented clout to Hamas, which calls for Israel's destruction and is listed as a terror group by the United States and European Union.
An exit poll by Bir Zeit University in Ramallah showed Fatah winning 63 seats in the 132-member parliament with 46.4 percent of the vote, and Hamas taking 58 seats with 39.5 percent. Smaller parties received 11 seats, according to the poll of 8,000 voters in 232 polling stations. The poll had a one-seat margin of error.
A second survey showed Fatah beating Hamas 42 percent to 35 percent.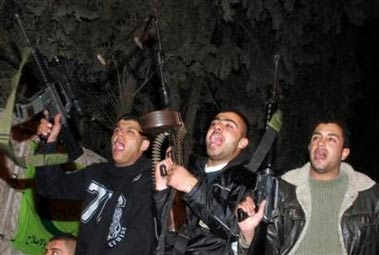 Palestinian supporters of the ruling Fatah movement carry their weapons in the West Bank town of Nablus, January 25, 2006. [Reuters]
Before the election, pollsters said the race was too close to call. Hamas made a stronger showing than the 30 percent that many pollsters expected.
The polls indicated Fatah may need to include some Hamas members in its ruling coalition because some of the independents were aligned with the militants. Palestinian leader Mahmoud Abbas could face problems with Israel and the United States if he includes Hamas members in his Cabinet.
President Bush told The Wall Street Journal in an interview Wednesday that the United States will not deal with Hamas until it renounces its position calling for the destruction of Israel.
"A political party, in order to be viable, is one that professes peace, in my judgment, in order that it will keep the peace," Bush said.
"And so you're getting a sense of how I'm going to deal with Hamas if they end up in positions of responsibility. And the answer is: not until you renounce your desire to destroy Israel will we deal with you."
In Gaza City, Fatah loyalists fired rifles out of car windows, sounded their horns and waved the yellow flag of their movement as they drove around the streets after getting word of the exit polls.

"Even though this is not the official result, we have to celebrate," said 22-year-old Omar Abdel Al Raouf, waving an assault rifle from his car window. "The winner is the Palestinian people."