China, India are highest-growth economies
(Xinhua)
Updated: 2006-01-25 22:04
The world economy will grow by slightly more than 3 percent in 2006, with China and India still the highest-growth economies, according to a report released by the United Nations (UN) on Wednesday.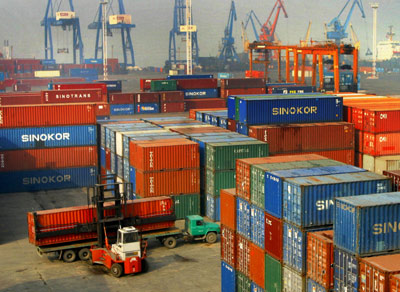 A port in Nanjing is seen in this photo taken in January 11, 2006. [newsphoto]
The slowing trend in the world economy following 2005 reflects a maturing of the recent global economic recovery, the UN's World Economic Situation and Prospects 2006 reports.
Predicted growth in 2006 is similar to the average growth of the world economy in the past ten years.
The United States will remain the major engine of the world economy in 2006 while China, India and other developing countries are playing more and more important roles in world economic growth.
Slower growth in the United States, Europe and a modest return to expansion in Japan contrast with only a slight fall-off in the strong economic performance of the developing countries, said the report.
Benefiting from a favourable international environment of low interest rates, low inflation and strong commodity demand, the developing world is projected by the UN report to grow by slightly more than 5.5 percent this year, following an estimated 5.7 percent growth in 2005 and 6.6 percent in 2004.
Growing at 6.6 percent, the 50 least developed countries are expected to reach the fastest average growth they have had for decades, says the report.
However, the per capita income of the least developed countries is still not enough to meet the Millennium Development Goals of halving the number of the world's poor, said the report.
After benefiting from high prices for raw materials over the past two years, those countries will not be able to maintain high growth as raw materials prices may not remain at the current high levels in 2006, said the report.
The report said that the greatest danger for the world economy may lie in the systemic weakness of huge and still-growing global finance imbalances.
The imbalances continued to expand in 2005 with the current account deficit of the United States exceeding 800 billion U.S. dollars, while surpluses in Europe, Asia and the OPEC countries continued to rise.
Furthermore, the possibilities of new oil price surges, a bird flu pandemic or a crash in house prices in key economies also pose a threat to a smooth winding down of economic growth, according to the report.
To reduce the risks caused by global finance imbalances, the report suggests policy coordination between major economies.
Policies should encourage countries with adverse trade balances to increase savings and countries with favourable balances to expand investment and domestic demand, said the report.
World Economic Situation and Prospects is produced at the beginning of each year by the UN Department of Economic and Social Affairs, the United Nations Conference for Trade and Development and the five United Nations regional commissions.