Mainland, Taiwan charter flights strike peak before festival
(Xinhua)
Updated: 2006-01-25 16:34
The charter flights between Chinese mainland and Taiwan for the traditional Spring Festival, or the Chinese lunar new year that falls on next Sunday 29, have entered the peak period on Wednesday.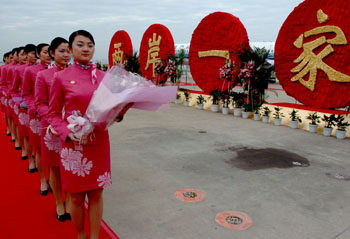 Attendants of Xiamen Airlines are bidding farewel to Taiwan compatriots heading for Taiwan for the Spring Festival, which falls on January 29 this year. [Xinhua]
There will be eight round-trip flights by seven airline companies on the Chinese mainland and Taiwan Wednesday, the most flights since the festival charter flights were launched on Jan. 20.
A total of 34 round-trip flights are arranged from Jan. 25 to Jan. 27, including 13 round-trip flights on Thursday and Friday respectively.
After the first mainland-run charter flight for this year's Spring Festival was operated by the Shanghai Airlines Tuesday, another five mainland airline companies including Air China, China Eastern Airlines and China Southern Airlines started their charter flights on Wednesday.
The coastal city of Xiamen, less than five kilometers from Jinmen (or Quemoy) of Taiwan, became a new destination of charter flights this year. Flight MF 881, operated by Xiamen Airlines, left from Xiamen for Taipei on Wednesday morning.
During Jan. 25-27 period, 18 round-trip flights will be operated by six mainland airline companies, and 16 round-trip flights will be run by six Taiwan airlines.
Among the four mainland destinations including Beijing, Shanghai, Guangzhou and Xiamen, Shanghai has the most flights with14 round-trip flights flying to or from the city during the peak period.
After the peak period, the last round-trip flight prior to the Spring Festival will be operated by a Taiwan company on Jan. 28.