Koizumi: Only China, S. Korea criticize Shrine visits
(KYODO)
Updated: 2006-01-25 14:51
Japan's Prime Minister Junichiro Koizumi said Wednesday his visits to the war-linked Yasukuni Shrine in Tokyo have drawn criticism from only China and South Korea among Asian countries, again downplaying the issue that has disrupted his summits with the neighboring leaders.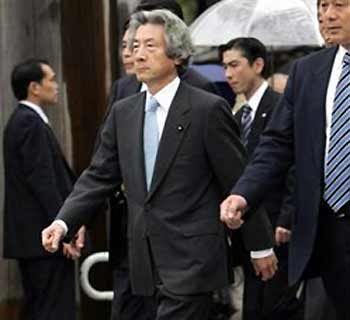 Japanese Prime Minister Junichiro Koizumi arrives at the Yasukuni Shrine in Tokyo Monday, Oct. 17, 2005. [AP]


"No countries in Asia other than China and South Korea criticize my Yasukuni visits," Koizumi told a House of Councillors plenary session when asked how he will try to rebuild Japan's Asia diplomacy amid disputes over history with China and South Korea.

In Diet questioning on his key policies that began Monday, opposition Democratic Party of Japan member Marutei Tsurunen asked Koizumi to explain his Asia strategy without touching on the Yasukuni issue, but to no avail.

In Seoul, South Korean President Roh Moo Hyun said the same day that Koizumi should be more sensitive to the feelings of the South Korean people, in reference to the Japanese premier's repeated visits to Yasukuni Shrine.

China and South Korea have refused to have summit talks with Japan after Koizumi's latest Yasukuni visit last October. Koizumi has visited the shrine once a year since taking power in 2001.

Koizumi also told the parliament that Japan will continue to use official development assistance to realize a prosperous and stable Asia, and reiterated his belief that a close Japan-U.S. alliance is important for strategic diplomacy in Asia, without elaborating.

In his policy speech Friday at the start of this year's 150-day regular Diet session, Koizumi, who plans to leave office in September, alluded to the Yasukuni issue as a "conflict on some issues" and called for a future-oriented relationship with China and South Korea regardless of the row.

On Tuesday, Takenori Kanzaki, leader of the Liberal Democratic Party's ruling coalition partner New Komeito party, joined in expressing concern in the Diet about Japan's icy bilateral relations with China and South Korea.