China's economy grows 9.9% to US$2.3 trillion
(Chinadaily.com.cn)
Updated: 2006-01-25 11:00
China's economy expanded with full power in 2005, rising an eye-catching 9.9 per cent over 2004, the National Bureau of Statistics said in a publicly-announced statement in Beijing on Wednesday.
The economic volume, in GDP terms, has overtaken France's as the world's 5th largest, analysts and economists said.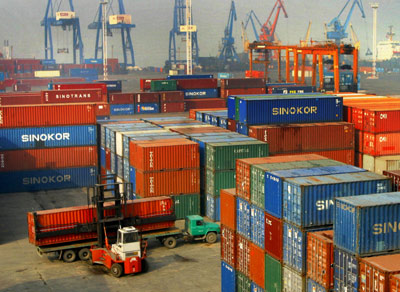 A port in Nanjing is seen in this photo taken in January 11, 2006. [newsphoto]
They believed China's economy will continue to power ahead with full steam, led by a rising domestic demand, vigorous overseas consumption of Chinese goods and continuing big investments in infrastructure, urban and rural build-up, and technological innovation and renovation.
The statistical bureau commissioner Li Deshui said that China's gross domestic product rose to 18.2 trillion yuan (US$2.3 trillion) in 2005 after expanding 10.1 percent in 2004.
The economy grew 9.9 percent in the fourth quarter from a year earlier after expanding a revised 9.8 percent in the previous three months, the bureau said.
France's 2004 output was worth $2.05 trillion and the Organization for Economic Cooperation and Development (OECD) has forecast 1.6 percent growth for the country in 2005, the Bloomberg News reported. China is set to overtake the U.K. this year as the 4th-largest economy in the world.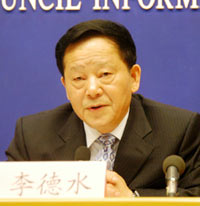 Li Deshui, commissioner of the National Bureau of Statistics, speaks at a press conference on China's economic performance in Beijing on January 25, 2006. [Xinhua]

The U.S.'s $12 trillion economy stands at No. 1, and Japan's is the second-largest, at $4.7 trillion.

Exports and domestic consumption, coupled with booming fixed-asset investment, made China the world's fastest-growing major economy and an engine for worldwide expansion.

China was the second-biggest contributor to global growth in 2004, after the U.S., according to the International Monetary Fund, the Bloomberg reported.

Exports surged 28 percent to $762 billion last year, generating a record $102 billion trade surplus. Overseas sales amounted to almost 40 percent of GDP, compared with about 25 percent in France, according to the World Bank. Investment makes up about 45 percent of China's output.

A nationwide economic census completed last year that revealed millions of previously unaccounted-for services companies helped ease concerns about China's ability to sustain growth. The census, published last month, added $284 billion -- equivalent to the output of Austria -- to China's 2004 GDP and suggested services are more important to the economy than previously thought.

In announcing their blueprint for economic development for the coming five years in October, China's leaders said they will step up efforts to stimulate consumer spending in an economy where per capita incomes are still a 16th of France's.