US "outsourced" torture: investigator
(Reuters)
Updated: 2006-01-25 09:36
The United States flew detainees to countries where they would be tortured and European governments probably knew about it, the head of a European human rights investigation said on Tuesday.
But Swiss senator Dick Marty said in a preliminary report for the Council of Europe human rights watchdog that he had found no irrefutable evidence to confirm allegations that the CIA operated secret detention centers in Europe.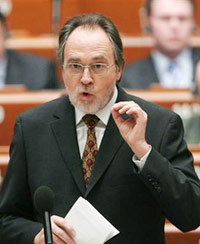 Dick Marty, a Swiss senator investigating the charges for the Council of Europe human rights watchdog, addresses the Parliamentary Assembly of the Council of Europe in Strasbourg, January 24, 2006. [Reuters]

His report kept pressure on the U.S. Central Intelligence Agency over the charges that it flew prisoners through European airports to jails in third countries, but Washington denied any wrongdoing and critics said the report contained nothing new.

"There is a great deal of coherent, convergent evidence pointing to the existence of a system of 'relocation' or 'outsourcing of torture'," Marty told the 46-nation Council, based in the eastern French city of Strasbourg.

"It is highly unlikely that European governments, or at least their intelligence services, were unaware."

At the State Department in Washington, spokesman Sean McCormack dismissed the report as "same old reports wrapped up in some new rhetoric. There's nothing new here."

The September 11 attacks on U.S. landmarks sparked a U.S. global war on terrorism against al Qaeda and led to the invasion of Iraq. Public opinion has hardened in Europe since deadly bomb attacks in London last July and in Madrid in March, 2004.

But the allegations about the CIA, first made by newspapers and human rights groups late last year, have put pressure on the United States and European governments to explain their actions and those of their secret services.

Marty said it had been proved that "individuals have been abducted, deprived of their liberty and transported to different destinations in Europe, to be handed over to countries in which they have suffered degrading treatment and torture."

He estimated more than 100 people had been subject to the process known as "rendition."

NO "SMOKING GUN" ON SECRET JAILS

Romania, Poland, Ukraine, Kosovo, Macedonia and Bulgaria have faced accusations that the CIA used detention centers on their soil.

Marty acknowledged there was no firm evidence of detention centers in Europe similar to the one at Guantanamo Bay in Cuba, where hundreds of people judged by the U.S. military to be illegal combatants are held without charge.

But he said U.S. media had faced government pressure not to publish further accusations, and he expected newly received European satellite and flight data to boost his investigation.

The United States has not denied or confirmed the existence of secret detention centers.

U.S. Homeland Security Secretary Michael Chertoff told reporters in Paris he had not seen Marty's report but "the government acts in accordance with the law and with respect to the sovereignty of host countries in which it operates."

"The authorities are free to investigate what they want to investigate but we should not allow ourselves to be distracted from the need to identify, prevent and protect against terrorist acts of violence," he added.

The State Department's McCormack insisted the United States "does not torture," respects the sovereignty of European allies and does not transfer suspects to countries where there is reasonable expectation they might be subjected to torture without first seeking assurances they will not be tortured.

There may be differences between Europe and America on these issues, but "we are fighting the same fight, we share the same core values. And what we need is discussion and dialogue about how to deal with the issues that confront us," McCormack told a news briefing.

He said if Europeans had more questions on this issue, the United States would try to answer them.

Denis MacShane, a British member of parliament and former minister for Europe, told reporters Marty's report "has more holes than a Swiss cheese." A British government spokesman said there seemed to be no new facts.

European Security Commissioner Franco Frattini urged EU members to cooperate fully with Marty's probe but said it was too early to draw conclusions.

Poland said the report left no "basis for thinking such camps or prisons existed on Polish territory."