Wen calls for better US communications
(China Daily/USA Today)
Updated: 2006-01-25 05:56
Premier Wen Jiabao said yesterday that Beijing hopes for better communications with Washington so that relations with the United States can be further improved.
He made the remark during a visit by US Deputy Secretary of State Robert Zoellick. We hope to improve strategic dialogue in order to enhance mutual understanding and trust," Wen said.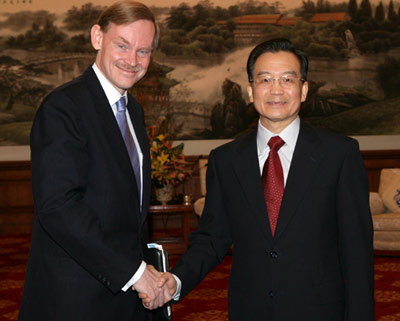 Chinese Premier Wen Jiabao (R) meets with visiting US Deputy Secretary of State Robert Zoellick at the Diaoyutai State Guesthouse in Beijing Tuesday January 24, 2006. [Xinhua]
Zoellick arrived in Beijing on Monday night for a three-day visit to China. He also met with other senior officials including Foreign Minister Li Zhaoxing and Vice-Foreign Minister Dai Bingguo during his one-day stay in the capital.
At a news briefing at US Embassy in Beijing last night, the deputy secretary of state said he wanted to seek China's active and positive participation on a range of international issues, from security and non-proliferation issues in Iran, Iraq and Afghanistan to debates on climate change and energy.
"By reason of its size and its success and its growth, it is also affecting the international system," Zoellick said.
On key issues like energy, counter-terrorism and nuclear non-proliferation, the State Department hopes China will use its new weight in a responsible way, USA Today reports.
"China's success and accomplishments make it an influential player in the global system," Zoellick was quoted as saying. "It's important that China see the possibilities of sustaining and building that system from which it benefits a great deal."