Bush: Personal relations with Hu are warm
(China Daily)
Updated: 2006-01-25 05:56
MANHATTAN, Kansas: US President George W. Bush spoke highly about his personal relationship with President Hu Jintao on Monday, saying that he "enjoys" visits with the Chinese leader.
Such relations are "warm warm enough to be able to sit with him in private and talk about things that matter to me," Bush told a question-and-answer session at Kansas State University.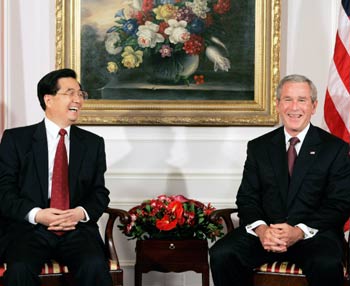 U.S. President George W. Bush (R) greets China's President Hu Jintao (L) in New York September 13, 2005. Hu is in New York for the United Nations General Assembly meeting. [Reuters]
Hu is expected to visit the United States in April after a trip scheduled for last September was postponed because of Hurricane Katrina, a US official confirmed in Beijing yesterday.
Despite the warm personal relations with Hu, Bush admitted that differences remain between the two countries, which makes dialogue imperative.
"We don't always agree with China, of course," Bush said. "It's a complex relationship. But it's one in which, in my judgement, it's best to be in a position where we can dialogue and discuss things in order to keep relations on keel and keep peace in that part of the world.
"We've got a lot of relations with China ... We've got trade relations with China. We have got diplomatic relations with China. I've met with the Chinese leadership quite often."
Bush also recalled his experience visiting a local church in Beijing during his visit to China last November, his third one since taking office in 2001.
"I was a little nervous at first, frankly, about a licensed church," Bush said. "I wasn't sure whether I was going to a church or not a church and went. Laura and I went with a guy named Luis Palau. And I was impressed by the spirit I felt in the church."
He also praised the Chinese Government for its efforts to create jobs.
"It's really interesting," he said. "Do you realize that it takes China 25 million new jobs a year to stay even? Think about that."