Taipei urged to 'obey will of the people'
By Xing Zhigang (China Daily)
Updated: 2006-01-25 05:56
Beijing urged Taipei to "obey the will of the people" yesterday and drop its tougher line against the mainland, on the eve of the inauguration of the island's new "premier" Su Tseng-chang.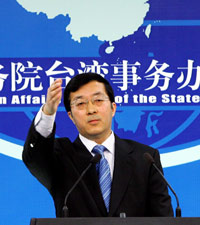 Li Weiyi invites questions from journalists at a news conference in Beijing January 24, 2006. [newsphoto]

Li Weiyi, spokesman of the Taiwan Affairs Office of the State Council, warned the pro-independence Democratic Progressive Party (DPP) administration against "adopting practices that run counter to the wishes and interests of Taiwan compatriots."

He said people on both sides share the common aspiration for promoting closer economic links as well as the peaceful and stable development of cross-Straits relations.

"We hope the Taiwan authorities will recognize the trend of the times, obey the will of the people... and boost cross-Straits exchanges and co-operation, as well as ease and develop cross-Straits ties," Li told a regular news conference.

The new "cabinet," headed by Su, takes office today.

Taiwan "president" Chen Shui-bian appointed Su, a former DPP chairman, as the island's fifth "premier" since 2000 in a bid to avoid becoming a lame duck following the ruling party's crushing defeat in local elections last month.

Chen signalled a tougher policy towards the mainland in his New Year's Day speech by tightening control over cross-Straits economic relations. Su's new "cabinet" is widely expected to follow Chen's mainland policy of imposing restrictions on trade exchanges.

Li, however, condemned Chen's policy for ultimately undermining Taiwan's economy and impairing the immediate interests of the Taiwanese people.

"Deliberately impeding cross-Straits economic and trade co-operation is a move that puts personal interests at the expense of the interests of Taiwan compatriots," Li said.

The spokesman pointed to the fact that the island's current economic development has greatly benefited from its stronger economic co-operation with the mainland.

For instance, latest statistics suggest that Taiwan recorded a trade surplus of US$58 billion with the mainland in 2005.