China and US agree on closer cooperation
(Xinhua)
Updated: 2006-01-24 19:21
China and the United States have greatly advanced their cooperation in both bilateral and multilateral arena and are willing to further strengthen such cooperation, said top diplomats from both countries here Tuesday.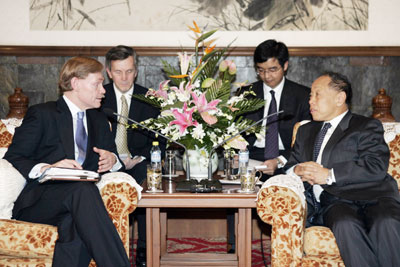 U.S. Deputy Secretary of State Robert Zoellick (L) sits with Foreign Minister of China Li Zhaoxing during talks at the Diaoyutai State Guest House in Beijing, January 24, 2006. The nuclear stand-offs with Iran and North Korea were high on the agenda as Zoellick began talks on Tuesday with senior Chinese officials in Beijing. [Reuters]
Chinese Foreign Minister Li Zhaoxing met with U.S. Deputy Secretary of State Robert Zoellick at the Diaoyutai State Guesthouse in Beijing Tuesday afternoon.
Li said cooperation in bilateral and multilateral fields has been strongly promoted since Chinese President Hu Jintao and U.S. President George W. Bush last year reached important consensus on advancing constructive cooperation between the two countries in the new century.
Sino-American relations have seen a steady development since then, Li said.
Zoellick said the United States attaches great importance on developing relations with China. It welcomes China to play a bigger role in maintaining world peace and promoting common development, he said.
Zoellick said the U.S. side is willing to strengthen bilateral relations and step up cooperation with China in multilateral areas.
Li said China is ready to join effort with the United States to actively implement the consensus reached by the leaders of the two countries and push forward the constructive relations of cooperation.
Li said it is in the common interests of both China and the United States to oppose and contain "Taiwan independence" forces and to maintain stability of the Taiwan Straits.
China hopes that the United States would abide by its commitment on adhering to the one-China policy, observing the provisions of the three Sino-U.S. joint communiques and opposing "Taiwan independence", Li said.
Zoellick reiterated that the U.S. government will continue to uphold the one-China policy.
During the meeting, Li and Zoellick exchanged views on regional and international issues of common concern.