Magnate nods to dad's urgent SOS letter
By Jessie Tao (chinadaily.com.cn)
Updated: 2006-01-24 17:24
The Chinese proverb -- "A man without money is no man at all" -- may be the best description of the dire situation of Liu Fucheng, a farmer from Northeast China's Jilin Province.
A huge medical expense for his 11-month-old daughter who suffers from congenital cardiovascular disease has rendered him into a penniless man, but one rich in debt.
With no one to turn to, the desperate father wrote letters to six Chinese magnates in the hopes of them giving a hand.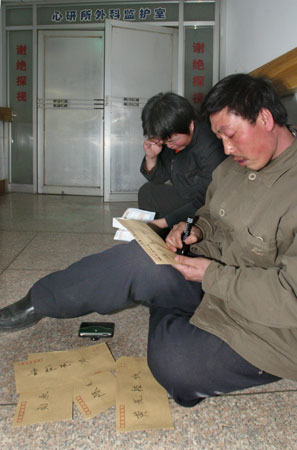 Liu Fucheng is writing letters to Chinese magnates, while his wife sobs by his side. [China Business Morning View]
Shi Zhengrong, CEO of Wuxi Sun-tech Power Co.Ltd, was the first to receive the SOS letter. He has promised a donation according to Shao Huaqian, an office dean of the company, reported a Shenyang-based newspaper, China Business Morning View.
"We have learned of the case from the Internet, but didn't see the letter until this morning, as there are lots of letters every day," Shao explained.
"We will donate some money of course, and it is also part of our social responsibility. But we'll have to investigate the situation, as we received many such letters, and are not able to help every one seeking help..." said Shao, without revealing any specifics.
Liu's daughter was diagnosed with congenital disease two months after her birth, and was hospitalized three times since then.
At the end of 2005, Liu brought his daughter to Shenyang for further tests, where she was diagnosed with truncus arteriosus (0.8% of Chinese newborns suffer from congenital disease, and 0.4-0.2% of them are truncus arteriosus sufferers), which may result in death at any time.