Eason Chan most decorated Chinese singer
(AP)
Updated: 2006-01-24 11:29
Eason Chan was crowned the king of Hong Kong's 2005 pop-music awards season with a strong showing at Monday's Top Ten Chinese Gold Songs Awards, in a ceremony that mixed classical and contemporary performances.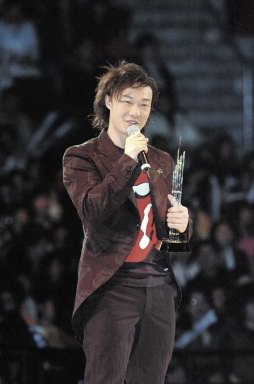 Eason Chan performs a song holding his award at Monday's Top Ten Chinese Gold Songs Awards in HK. [sina]

Chan won the Four Electronic Media Syndicated Award, having won the most awards at the four pop-music prize ceremonies organized by local broadcasters.

His song "Sunset is Infinitely Good," was picked as the "Global Chinese Gold Song" by a listeners' vote and input from Chinese-language radio stations around the world. "Sunset" was also picked as the second-most popular song in mainland China.

Chan, who was also picked best male pop singer, urged his colleagues to slow down and improve the quality of their work.

The Hong Kong entertainment industry is known for its high productivity in both movies and music albums.

"I hope Hong Kong isn't always so rushed. A lot of things should take a slower pace ... That way there can be more exchange of ideas (among recording artists)," he said.

Joey Yung was the big winner on the female side, bagging a top sales award and racking up honors as the best female pop singer and the most popular in China.

Andy Lau continued to prove his evergreen status. He was named most popular male singer in China and his "Say I Love You Again" was the most popular song in China.

The 44-year-old veteran has managed to juggle successful singing and acting careers while contemporary stars have faded.

One of the presenters Monday night, Chinese Olympic gold-medal gymnast Liu Xuan, praised Lau as the "chief executive of the Hong Kong music industry."

Indeed, Lau was statesmanlike Monday. After one of his awards was announced, Lau, dressed in a black suit jacket and black pants, rose, raised one of his arms and circled to acknowledge the crowd like a presidential candidate. He performed while shaking hands with fans.

Taiwan's Jay Chou was cited as the best-selling male artist but didn't show up for the ceremony.

In an unusual move, organizers didn't give the Golden Needle lifetime achievement award to an individual, but gave it instead to a group ¡ª the nearly 30-year-old Hong Kong Chinese Orchestra.

In a tribute to traditional Chinese music, singer Hacken Lee performed to the accompaniment of the Chinese string instrument er hu.

Overall, the night's performances fused pop and classical, East and West. Classical pianist Li Yundi played Mozart while Coco Lee sang the theme song to the hit martial-arts movie "Crouching Tiger, Hidden Dragon."

Veteran singer Sandy Lam, who's launching a comeback, performed a series of upbeat numbers that had fellow stars on their feet.

Monday's awards were organized by Hong Kong's government-owned radio RTHK. The prizes were determined by a mix of voting, polling, professional judging and input from radio stations.