Top US official begins China visit
(AFP)
Updated: 2006-01-24 10:47
US Deputy Secretary of State Robert Zoellick arrived in Beijing at the start of a three-day visit to China.
On Tuesday morning, Zoellick met with Chinese Premier Wen Jiabao.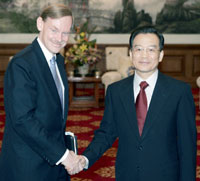 U.S. Deputy Secretary of State Robert Zoellick (L) shakes hands with China Premier Wen Jiabao, at the Diaoyutai State Guest House in Beijing, January 24, 2006. Zoellick is in Beijing to hold talks with senior chinese officials expected to cover nuclear standoffs with Iran and North Korea. [Reuters]

Zoellick will also meet Foreign Minister Li Zhaoxing "to exchange views on China-US relations and major international and regional issues of common concern," Xinhua news agency said.

Zoellick arrived in the Chinese capital from Japan, where his talks with government leaders were overshadowed by Tokyo's abrupt new ban on US beef over mad cow disease concerns.

The US State Department has said US concerns over the nuclear programmes of North Korea and Iran would be on the agenda of Zoellick's talks with Chinese leaders.

"I look forward to a good exchange of views in Beijing on security and proliferation issues -- particularly in Northeast Asia, and Iran" among other topics, Zoellick said in a statement last week.

A speech Zoellick made in September that called on China to treat itself -- and be treated by other countries -- as a key "stakeholder" in international trade and diplomatic relations has been read by Chinese analysts as a key Washington statement on often rocky relations between the two sides.

"The United States and China are two large and important stakeholders in the international system," Zoellick said in remarks made just before departing for Asia on January 19.

He is also scheduled to travel to Chengdu in the southwestern province of Sichuan, where he will meet regional authorities and visit the Chengdu Panda Research Base, the State Department said.

From China, Zoellick is due to travel to the World Economic Forum summit in Davos, Switzerland.