Rich guy seeks girl, must be virgin: Read this ad
By Howard W. French (The New York Times)
Updated: 2006-01-24 09:12
It was only a matter of time before money transformed that most intimate of private domains, love and marriage, as it has almost everything else in this booming country. And it stands to reason that the shock of the new would be felt first here in Shanghai, the throbbing heart of Chinese economy.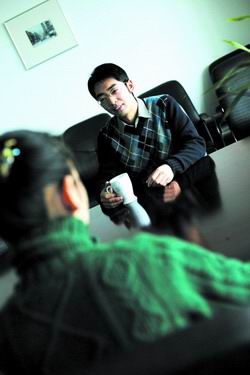 A young girl candidate in green sweater is auditioned during the "sea choice" stage by the wealthy wife hunter Liu Qiang's attorney He Xin. [Southern Weekend]

It all began with an advertiser and a lawyer, sitting with a friend who had made his fortune in auto parts and was distraught over his recent divorce and unable to find a suitable new bride. Place an ad, said the ad man, half in jest, but the lawyer took him seriously and put an announcement in a newspaper about a billionaire seeking a virgin bride.

In China's currency, the yuan, a billionaire's worth shrinks substantially, to about $125 million. But that is still a lot of money, enough in this case to attract a flash flood of 600 applications, complete with photographs and detailed personal information.

That was whittled down to 100 candidates, of whom 20 were interviewed and one was selected, finally producing man and wife.

That first virgin bride ad campaign, which occurred two years ago, has given rise to a mini-industry: Hundreds of supposedly super-rich lonely-hearts and hordes of young women, often professing to be virgins and hoping to meet well-heeled men.

The lawyer, a 25-year-old Shanghai resident named He Xin, said he had already been approached by more than 50 billionaires and had been retained by several of them, including three he has found brides for, in a process that He said takes about three months from start to finish. Along the way, He has also found a bride for himself - a woman who was passed over by one of his clients.

Today, He proudly claims his work for billionaires has spawned a new line of law in China, lifestyle law, a personalized service catering to people with means. Not incidentally, it has spawned a debate, too, about rapid social change in China and especially about the changing place of women in society. Since the beginning of the economic reform era 27 years ago, perhaps no area of Chinese life has undergone more change than the mores of dating, love and marriage.

For centuries, Chinese practiced arranged marriages complete with dowries, leaving little place for Western-style notions of romance.

Only recently has the idea of living together unmarried gained limited social acceptance in China.

In a breathtakingly short period of time, though, sexual and romantic opportunity has sprung up everywhere in a society that still thinks of itself as conservative in such matters.

Prostitutes work openly in almost every hotel in China. The Internet has made possible everything from online dating to nude Web cam dancing, sprouting a vocabulary all its own, like MBA, or married but available. Unsurprisingly, divorce rates in cities like Shanghai are skyrocketing.

When the newspaper Nanfang Zhoumo, or Southern Weekend, ran a report recently about billionaires seeking brides, online discussion groups were flooded with commentary from readers, often focusing on the matter-of-fact comments of one woman who applied but was passed over by a billionaire.

"Isn't the purpose of saving our virginity to get a good price?" she asked.

Many readers deplored the woman's response, condemning people like her as little better than prostitutes. "I'm also a well-educated woman with a good figure, too, but I hate this kind of thing," one reader wrote. "People's beauty derives from their inner qualities, not their virginity. Those girls have sold themselves like cheap merchandise."

Others ridiculed the billionaires. "If they think they can get a pure-hearted girl this way, they are really mistaken," wrote another commentator. "To me, the way people are taking virginity as a commodity these days is such a sad thing."

In an interview, however, another young woman, who had replied to a billionaire's ad but was passed over, offered a stout defense of her choice, one that amounted to a brief for personal and sexual freedom.

"Things are different from before because everyone has a right to choose," said the applicant, Wang Yue, who said that in a physical relationship feelings can always be developed later.

"It's very easy for me to support myself. Without men, my life wouldn't be hard. But if I'm standing on a giant's shoulder, I can see further."

The confusion over love, sex and marriage is probably a passing phase, one expert says.

"China is a society in transition, and for the last 20 years, people have been basically going after material things," said Yang Xiong, an expert of youth culture at the Shanghai Academy of Social Sciences. "Give it another 20 years, and I would say very few people would pursue billionaires just for their money. Right now this seems like a fresh topic for discussion, but in 10 years nobody will give a damn."

Even in a China that is becoming more money-driven by the day, Shanghai, with its glitter and flash, has a very special reputation. The women of the city, in particular, are often spoken of as being driven consumers and the most demanding of wives.

In several days of interviews among young women here, though, it became evident that the billionaires out to buy love have their work cut out for them. One after another, young women said the verdict of their hearts was more important than the cost of their wardrobe or the weight of their purse.

"I have to take time to see if a man is quite suitable for me or not, because life is a long course," said Su Jie, 23, an airline stewardess as she ate a Korean barbecue with a friend.

"I can make money for myself, maybe not so much, but enough," she said. "It's more important to me that we understand each other."