Japan set to launch monitoring satellite
(AFP)
Updated: 2006-01-24 08:49
Japan was set for the first launch in nearly a year of its space program's leading rocket, aiming to put into orbit a satellite that can monitor disasters and hunt for natural resources.
The launch, which has been delayed three times since September due to technical problems and bad weather, is set for 10:33 am (0133 GMT), the Japan Aerospace Exploration Agency said.
"The schedule is on course ... as we see no trouble in the preparation process," said a spokesman at Tanegashima Space Center in southern Japan.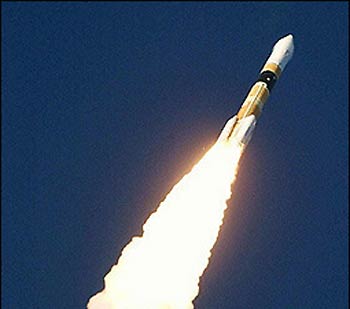 A Japanese H-2A rocket flies into orbit just after lifting off from the national space center on Tanegashima, in 2002.[AFP/file]

Pressure has mounted on Japanese space officials as China presses ahead in space and established space countries take the lead in the lucrative satellite market.

The domestically-produced H-2A rocket to be launched Tuesday carries one of the world's largest land observation satellites, which are used to draft maps, monitor disaster damage and investigate natural resources.

Japan spent 53.5 billion yen (470 million dollars) on developing the four-ton satellite over a decade.

Japan in February 2005 successfully launched a seventh H-2A rocket with a satellite to forecast weather. It was Japan's first launch since a rocket carrying a spy satellite to monitor North Korea failed in November 2003.

In July, Japan launched a satellite on a mid-sized M-5 rocket to probe high-energy astronomical phenomena such as black holes.

The H-2A rocket suffered a setback in November 2003 after five successful launches. Ground controllers had to destroy the sixth rocket just 10 minutes after lift-off when one of two rocket boosters failed to separate from the main body.

The 2003 failure was all the more embarrassing as it came one month after neighbouring China became the third country after the United States and the former Soviet Union to launch a successful manned space flight.

While few would feel Japan needs to prove itself in technology, the world's second largest economy is looking for a slice of the market in launching satellites.