Serbia-Montenegro train crash kills 39
(AP)
Updated: 2006-01-24 08:28
A packed passenger train derailed Monday and plunged into a steep river canyon outside the Montenegrin capital, killing at least 39 people and injuring more than 135, more than half of them children.
The four-car train derailed near the village of Bioce, about nine miles northeast of Podgorica, as it emerged from a tunnel above the Moraca River, police said. Interior Minister Jusuf Kalomperovic said initial reports indicated the train's brakes may have failed.
At least 200 passengers, many of them schoolchildren returning from a ski trip, were believed to be on the train when it crashed, in what was among the deadliest European train accidents of the past quarter-century.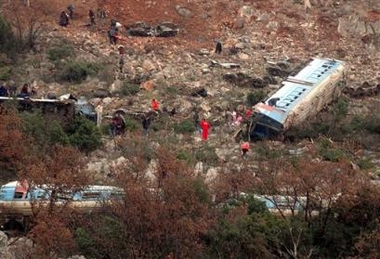 Recsuers search for injured passengers in the carriages of a derailed train, in Bioce, just outside the Montenegrin capital Podgorica, Monday, Jan. 23, 2006. [AP]

Victims cried out for help from the ravine, where four train cars lay smashed. Darkness in the densely forested area was hampering rescue efforts. Torn bodies were entangled in the mangled red train cars and strewn around the nearby patches of thick woodland.

"The train simply went wild, out of control," one passenger said as blood poured down his forehead. "I was fine because I was in a back compartment, those in the front got the worst of it."

Deputy Prime Minister Miroslav Ivanisevic told reporters that the government's casualty figures stood at 39 killed and 135 wounded, but he warned that the numbers could rise as emergency crews continue to reach victims in the 300-foot ravine.

He described the crash "as the worst rail accident in the history of Montenegro."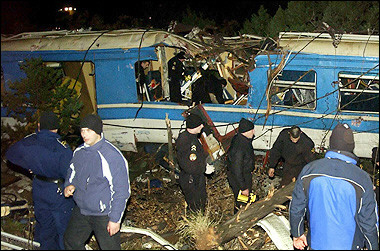 Montenegran policemen and rescuers search for injured passengers at the derailed train near Podgorica Monday, Jan. 23, 2006.[AFP]

Montenegro's transport minister, Andrija Lompar, resigned because of the accident, Ivanisevic said. A three-day mourning period was announced for the victims.

An Associated Press reporter saw 10 bodies on the side of the road above the ravine and dozens of injured carried away on stretchers. One passenger lying on the ground gasped a final breath and died before rescuers could reach him.

Investigative judge Zoran Radovic told the AP the entire train fell into the ravine and that it was carrying many schoolchildren home from a skiing holiday in the north.

"It was horrible, I saw many dead and wounded around me," said Karman Chofu, a passenger from Hungary.

The train was en route from the northeastern town of Bijelo Polje to the Montenegrin coastal city of Bar when it derailed near Podgorica.

"I had fallen asleep when a loud noise woke me," said Stanislava Bukovic, 60, one of the injured passengers, as she was carried away on a stretcher. "Then I felt something hit my head and lost consciousness. The next thing I knew I was on this stretcher."

Montenegrin President Filip Vujanovic visited the scene of the accident and called it a "catastrophe."

Visiting the Podgorica hospital where many of the injured were taken, Montenegrin Prime Minister Milo Djukanovic said the emergency crews had "reacted as well as could be expected in such a harsh and inaccessible terrain."

"We did all we could, but in many cases that was not enough to save those tragically killed," he said.

Other deadly train accidents in Europe in recent decades included the June 1998 derailment of a high-speed train traveling from Munich to Hamburg, which killed 96 people; and a crash in a dead-end tunnel at Moorgate Underground station in central London that killed 43 in February 1975.