Campaign naming Taiwan-bound pandas ends
(CRI)
Updated: 2006-01-22 16:28
"Tuan Tuan" and "Yuan Yuan" have been voted the most popular names as the campaign to name of the pair of pandas selected as gifts for Taiwan wrapped up Saturday night.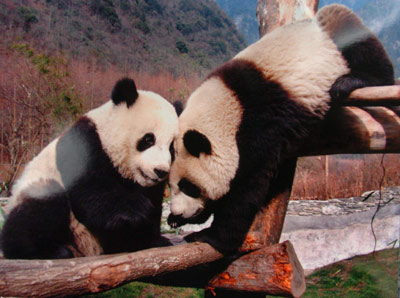 Two pandas play at the China Giant Panda Research Centre in Wolong, Southwest China's Sichuan Province in this undated photo. The pair has been chosen as a goodwill gift to the Taiwan compatriots, the State Forestry Administration said Friday. [Xinhua]


The names, along with thousands of others, were suggested by the general public, including residents of Taiwan, Hong Kong, Macao and overseas Chinese.

Six media operators have co-sponsored the voting with an official unveiling of the final choice later this month.

Indicating reunion after a long separation, the word tuan yuan means harmonious gathering in Chinese.

The name selection campaign was launched earlier this month as the mainland announced the two giant pandas for Taiwan compatriots.

Taiwan authorities have not yet said they will accept the pandas. Two pandas were first offered as gifts when Taiwan's opposition leader Lien Chan visited China last year.