Koizumi told Bush shrine visits to go on
(Reuters)
Updated: 2006-01-22 13:38
Japanese Prime Minister Junichiro Koizumi told US President George W. Bush when they met last fall that he will go on visiting a Tokyo war shrine even if Washington asks him not to, Kyodo news agency said on Sunday.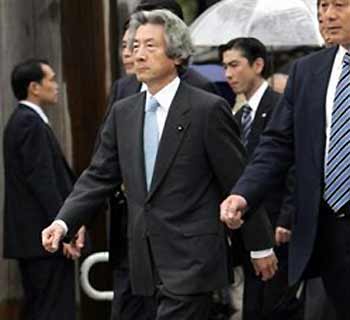 Japanese Prime Minister Junichiro Koizumi arrives at the Yasukuni Shrine in Tokyo Monday, Oct. 17, 2005. [AP]


Japan's ties with China and South Korea have chilled markedly since Koizumi took office in 2001 and began annual visits to Yasukuni Shrine, seen as a symbol of Japan's past militarism by critics because convicted war criminals are honoured along with Japan's 2.5 million war dead.

Comments made by a top U.S. diplomat shortly after Koizumi and Bush met suggested that Washington was growing a bit frustrated with Japan's strained relationship with its Asian neighbours.

According to U.S. and Japanese sources quoted by Kyodo, Bush asked Koizumi what his mid- and long-term view of China was when they met in Kyoto last November.

Koizumi, whose last visit to the shrine was in October, brought up Yasukuni himself, saying "Even if I am told by the United States not to, I will go," Kyodo said.

Koizumi also told Bush that visiting Yasukuni is a "matter of the heart" and added that he did not understand why his visits prompted criticism from China.

Japanese Foreign Ministry officials were not available to comment on the report.

The Yasukuni issue has become a barrier to summits with the leaders of China and South Korea.

In a keynote address on Friday at the opening of a new session of parliament, Koizumi vowed to mend fences with China and South Korea but made no mention of his visits to Yasukuni.

Koizumi has repeatedly said that he visits Yasukuni to pray for peace.

Assistant U.S. Secretary of State Christopher Hill voiced frustration with Japan's chilled ties with its Asian neighbours on the sidelines of Asia-Pacific Economic (APEC) forum in November, just after Koizumi met Bush, saying that he wanted to see the situation between Japan and its neighbours "calm down".