Yuan closes at new high vs. dollar
(AP)
Updated: 2006-01-20 19:31
In its biggest one-day shift since a revaluation six months ago, China's currency rose Friday to a new high against the U.S. dollar.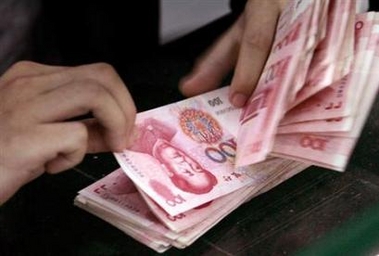 A Chinese bank employee counts yuan notes at the Bank of Beijing, July 22 2005. [Reuters]
The yuan closed at 8.0601 to the dollar on the automatic price-matching system after trading in a range of 8.0639 to 8.0601, traders said. The yuan closed Thursday at 8.0673.
China revalued the yuan by 2.1 percent last July to 8.11 yuan to the dollar. At the same time, it also shifted to basing the yuan's value on a basket of major currencies including the dollar. But the yuan's movements are kept within a narrow range of 0.3 percent above or below its opening level each day.
Since that time, the yuan has only risen 0.6 percent against the dollar.
Rising short-term interest rates in China encouraged market participants to sell dollars for yuan and the central bank did not try to prevent its rise, some traders said. On the stock exchange, the seven-day repurchase agreement rate, a benchmark for short-term rates, ended at 5.495 percent, sharply higher than Thursday's close of 4.555 percent.
China has indicated it will resist pressure from the United States and other trading partners for major currency shifts, despite arguments that the yuan remains undervalued, making Chinese-made goods artificially cheap in overseas markets.
On Friday, the China Economic Times carried an article by a prominent government economist acknowledging that the yuan remains undervalued.
But Zhu Baoliang, chief economist at the State Information Center, a think tank within the state planning agency, said Beijing could not afford to let the yuan's value rise by much because it needs to keep exports strong both to absorb excess factory output and to contain unemployment.
Zhu forecast that China's foreign exchange reserves, which surged to $818.9 billion last year, would rise this year to $950 billion.
The rate of increase in China's trade surplus, which more than tripled in 2005 to $102 billion, is expected to moderate, with the surplus in 2006 likely to be around $110 billion, Zhu wrote.