Giant pandas for Taiwan learn Minnan dialect
(Xinhua)
Updated: 2006-01-19 16:08
CHENGDU -- It's not easy for a child to learn a second language. But the principle seems to be different for the young giant panda couple selected for Taiwan compatriots.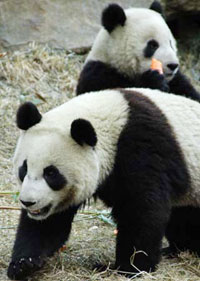 Giant panda couple, No.16 female and No.19 (male), eat at the China Giant Panda Research Center in Wolong, southwest China's Sichuan province January 6, 2006. [Newsphoto]

The pandas are being taught the Minnan (southern Fujian) tongue, a dialect commonly spoken in their future home in Taiwan and the southern part of Fujian province, southeastern China.

At the couple's new house in the Wolong China Giant Panda Research Center, in southwestern Sichuan Province, Li Guo and Xu Yalin, the panda keepers, sing a song in Minnan dialect. Female panda No.16 listens to the song while eating bamboo and the groom-to-be, No. 19, watches Li Guo attentively.

"We began our language training with songs because music is a language with no boundaries," said Li, the 25-year-old keeper who has taken care of No.19 since he was born.

"Girls are more gifted than boys in learning languages," said Xu, No.16's keeper, adding that the female cub began to react when they translated her nickname Huangmao Yatou (meaning a chit of girl in Chinese) into Minnan dialect.

"No. 19, however, is too naughty to study," said Li.

The Chinese mainland announced on January 6 that No. 19 and No. 16, both one year old, would be the final choice as the gift for Taiwan compatriots.

The panda couple were selected from among 23 candidates raised in Wolong.

"We immediately started our training program because the two cubs not only need to adapt themselves to the climate and geographical environment of the tropical island, but also to understand the language of their new keepers and visitors," said Li Desheng, director assistant of the center.

"It's not an easy task for the pandas as they are already familiar with the Sichuan dialect of their current keepers. They need more time to improve," said Li Desheng.

To make the two cubs more affectionate, No. 19 and No. 16 began cohabiting on January 7 even before they are "married".

Their extravagant new house measures about 600 square meters. The bedroom is directly connected to a playground, which is equipped with wooden shelves, rockeries and a pond.

To take good care of the couple, the Wolong center has set up a special team including a nutritionist, a vet and two keepers. Apart from fresh bamboo, milk, specially-made biscuits and apples will also appear on their menu.