Disney denies theme park plan for Beijing
(AP)
Updated: 2006-01-18 08:41
The Walt Disney Co. denied a news report yesterday that said Beijing hopes to build a Disney theme park by 2010.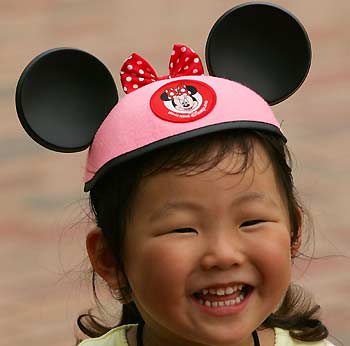 A young guest smiles at Hong Kong Disneyland September 11, 2005, a day before its official opening. [Reuters]


"Media reports that claim Disney is building a park in Beijing are inaccurate and not based on fact. Disney has no plans to build a park in Beijing at this time," Disney said in a statement.

The South China Morning Post, an English-language daily in Hong Kong, reported Tuesday that the Beijing city government unveiled a plan to create the second Disney theme park in China in its development road mapí¬a move that could pose competition to the recently opened Hong Kong Disneyland.

The report said the city's development and reform commission proposed the theme park be built in Beijing's National New Media Base in the city's southern Daxing district.

Disney spokeswoman Alannah Goss said the company is still talking to Shanghai authorities about building a Disney theme park in the financial hub, but no agreement has been reached.

Hong Kong opened its Disney theme park in September and has counted on mainland Chinese tourists as a major source of visitors for the park.

Hong Kong Disneyland is a joint venture between The Walt Disney Co. and the local government, which shouldered the bulk of the park's construction fees.