Chinese women players show glimpse of future
(China Daily)
Updated: 2006-01-18 06:59
MELBOURNE, Australia: A few years ago, the Russians were coming.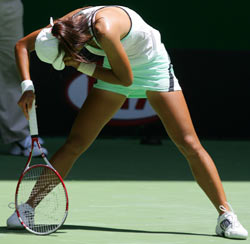 Sun Tiantian reacts during her play against third-seeded Mauresmo . [Reuters]

Now it's the Chinese who are shaping up as the next big thing in women's tennis.

There were seven Chinese in the main singles draw of the Australian Open. As of yesterday, two were left after first-round matches, most of them losing to seeded players or players ahead of them in the rankings.

Li Na took defending champion Serena Williams to three sets on Monday, and Sun Tiantian, one-half of the Athens Olympics gold medallist doubles team for China, gave third-seeded Amelie Mauresmo a tough time yesterday before losing in three.

"Everyone talks about the Russians, I always thought the Chinese have a great slew of players coming up," Williams said before her match. "Not only are they in the draw, but they're actually doing well."

Well, not so well this week.

On Monday, three went out - Russian Elena Vesnina beat Li Ting 6-2, 6-3, Ashley Harkleroad of the United States defeated Peng Shuai 6-4, 6-1 and Williams beat Li Na 6-3, 6-7 (1), 6-2.

The third-seeded Mauresmo beat Sun 4-6, 6-2, 6-2 yesterday while Anna Chakvetadze of Russia defeated Zheng Jie 5-7, 6-2, 6-4.

But in two other matches yesterday, Yan Zi upset 11th-seeded Nathalie Dechy of France 6-7 (5), 6-2, 6-3 and qualifier Yuan Meng defeated Melinda Czink of Hungary 6-4, 6-2.

Sun, Yan and Yuan were all making their Australian Open singles debuts.

In 2002, there were no Chinese women in the top 100 on the WTA Tour. Now there are seven in the top 200, three of them in the 50s.

Li Na is ranked 52nd this week, one ahead of Peng, while Zheng is 55. Yan is 88th, Sun 103rd, Yuan 152 and Li Ting 195.

While they have not come close to winning a Grand Slam like the new wave of Russians did in 2004 - Anastasia Myskina (French Open) Maria Sharapova (Wimbledon) and Svetlana Kuznetsova (US Open) - there have been some Chinese successes.