Venus loses, Serena gets scare at Aussie
(AP)
Updated: 2006-01-17 09:05
MELBOURNE, Australia - Serena Williams consoled her sister, telling Venus to look at it this way: She gets to go home. A few hours later, Serena was almost ready herself to start packing for the long flight.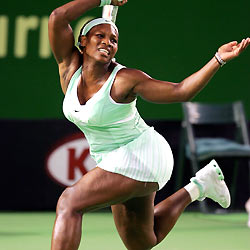 Serena Williams of the U.S. hits a return against China's Li Na during their match at the Australian Open tennis tournament in Melbourne January 16, 2006. [Reuters]

In danger of an early exit from the Australian Open, defending champion Serena Williams got a bit of a scare in the second set before dispatching 52nd-ranked Li Na of China.

Venus Williams had no such luck. The Wimbledon champion sprayed 65 unforced errors Monday in her 2-6, 6-0, 9-7 first-round loss to Bulgaria's Tszvetana Pironkova.

Serena didn't have it in her to watch the match ¡ª she said it made her too nervous. Between their matches, however, she offered Venus some comfort.

"I told her I was a bit envious that she gets to go home, so she could cheer up," Serena said. "She said 'You're not really envious' and I'm like, 'Nah' ¡ª she laughed at least," Serena added, laughing. "By no means am I envious. I was just trying to get her to cheer up, that's all. I don't want to go home."

Serena won 6-3, 6-7 (1), 6-2 and maintained her record of never losing in the first round of a Grand Slam tournament.

After losing the tiebreaker in the second set, Serena was broken to open the third. With Li ripping forehand winners, Serena was two points from falling behind 2-0. Then the prospect of joining Venus on the sidelines sparked a resurgence.

"I just got angry that I was in the situation," Serena said.

Her victory meant Jennifer Capriati remains the only woman to lose in the first round of her title defense at the Australian Open. She won in 2002 and lost in the first round in '03.

Serena, on a 15-match winning streak at Melbourne Park after winning the title in 2003 and '05 and skipping the '04 tournament, will play Camille Pin in the next round.

Pironkova, an 18-year-old Bulgarian ranked No. 94 entering the tournament, will play American Laura Granville. She shrugged off her upset of Venus Williams, whom she idolized from matches on TV.

"It's just one match that I won," Pironkova said. "I don't think I should celebrate."